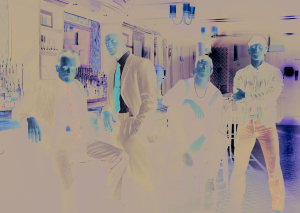 Kevin Bacon, Aldis Hodge, Mark O'Brien and Jonathan Tucker as seen in "City on a Hill"
Hollywood mogul Ben Affleck is no stranger to the subgenre of Boston crime dramas. The Academy Award winner grew up just outside of Boston, and his rise to directorial acclaim is marked by films about his hometown's criminal underworld. "Gone Baby Gone" (2007), a drama about a local private eye's hunt for a child abductor, displays the working-class realities of a Boston neighborhood ridden with drugs and violence; 2010's "The Town" follows the real-life events of a large-scale bank robbery in Fenway Park.
Now, Affleck has teamed up with childhood friend and co-Oscar winner Matt Damon ("The Departed," 2006) to co-executive produce his latest brainchild, "City on a Hill." The series, with a debut season consisting of 10 episodes, is a fictionalized account of "Operation Ceasefire," a project now more commonly known as the Boston Miracle. Starring Kevin Bacon ("Footloose," 1984) and Aldis Hodge ("Straight Outta Compton," 2015) in lead roles, "City on a Hill" premieres Sunday, June 16, on Showtime.
The Boston Miracle occurred in the '90s, when the city's police department implemented a program, designed by criminology professor David M. Kennedy, to combat the rampant youth gun violence of the time. The program, dubbed Operation Ceasefire, was groundbreaking in that it employed research tactics to help law enforcement understand and effectively target the main sources of gun trafficking and gang crimes.
The project was such a sweeping success that Boston's youth homicide rate fell by 63 percent, and it was the inspiration behind Group Violence Intervention projects that are still being employed throughout New York and other states today. Contemplating how the historic event of the Boston Miracle shook the city's entire law enforcement to its core, "City on a Hill" writer Chuck MacLean said, "Everything had been one way for such a long time, it seemed impossible to change, and it did, very quickly."
The show depicts Boston as it was in the 1990s, a world in which rampant crime and gang violence is propped up by a cesspool of corrupt law enforcement officials who are invested in the status quo of a crime-driven economy, and a culture of unchecked racism. Bacon stars as corrupt-but-respected FBI agent Jackie Rohr, while Hodge portrays Decourcy Ward, a newly appointed assistant district attorney from Brooklyn.
According to Showtime, the tension-fraught pairing "take on a family of armored car robbers in a case that grows to involve, and ultimately subvert, the entire criminal justice system of Boston." The series also stars Jonathan Tucker ("Kingdom"), Mark O'Brien ("Republic of Doyle"), Amanda Clayton ("If Loving You Is Wrong") and Jill Hennessy ("Crossing Jordan").
Aldis Hodge and Kevin Bacon star in "City on a Hill"
Bacon's Rohr is smug and dismissive, a man well practiced at tampering with local justice to his own ends. As comfortable with partaking in the city's illicit underworld as he is with policing it, he oversees corruption in dealings with Boston street gangs. He is not pleased with the prospect of an "affirmative action hire," as he calls Ward, stepping in to crack down on local crime.
Ward shakes up the entrenched status quo when he comes to town, dealing firsthand with the racism of local cops and driving hard for a major upheaval of the current gun policing. "I want to rip out the machinery in this city," he says. First, however, he needs to walk the line between maintaining his integrity and getting his hands dirty in order to operate within Boston's tight-knit network of corruption.
When Rohr and Ward wind up working together on the Charlestown car robber case, their pairing sparks a more revolutionary change than either of them could have imagined. The relationship between the two leads isn't just an unlikely investigative duo; "City on a Hill" attempts to delve into the complicated humanity of the players involved, to tell a story of struggling communities and determination to affect change.
In an interview with Showtime, actress Clayton explained the other side of the coin when it comes to the success of Operation Ceasefire: "What we don't acknowledge is that it broke apart a community doing their best," she said. The cost of the Boston Miracle was that the police force bore down on poor inner-city neighborhoods that were already struggling. Clayton's character is a tough inner-city mom whose husband, Frankie (Tucker), is a gang kingpin. She holds her family together and tries to arm them emotionally for survival in a world where they are caught between the rival forces of gang violence and crooked cops.
Bacon has expressed his excitement about the upcoming show. "It's just down-and-dirty crime and politics. I don't see too much of that on television now. It's a refreshing show in that way," Bacon said in a behind-the-scenes featurette. Bacon is a co-executive producer on the show along with Affleck and Damon.
"City on a Hill" is expected to be a gritty and complex picture of an era when Boston's crime rate was at its highest in history, and the surrounding culture of debauched law enforcement added yet another layer of violence and chaos. Watch the first episode of the candid drama when the series premieres Sunday, June 16, on Showtime.