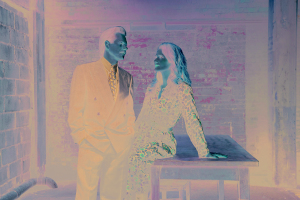 Kevin Bacon and Jill Hennessy star in "City on a Hill"
Aldis Hodge ("One Night in Miami," 2020) and Kevin Bacon ("Crazy, Stupid, Love," 2011) return to Boston as Assistant District Attorney Decourcy Ward and corrupt-but-revered FBI agent Jackie Rohr, respectively, in the Season 2 premiere of the popular crime drama "City on a Hill," airing Sunday, March 28, on Showtime.
Set in the early '90s, Season 1 saw the beginning of an unusual alliance as Ward and Rohr teamed up despite their vastly different personalities and outlooks. The new season is set to revolve around a federal housing project in Boston's Roxbury community, where drugs, crime and corruption are all living next door. Pernell Walker ("The Deuce") joins the cast as coalition leader Grace Campbell, whose dedication to improving the community is sabotaged by gang activity.
In contrast to Campbell's Good Samaritan personality, Rohr is desperate to salvage his career by capitalizing on the city's faulty criminal justice system. However, it won't be easy for him with Ward as his ever-present antithesis.
With Ward quickly picking up on Rohr's latest scheme, it's really only a matter of time before the hostile kinetics between the two erupt into full-blown combat, especially given that the pair have quite a history together. In Season 1, they took down a group of masked armored-car robbers in the north Boston neighborhood of Charlestown. While much has changed in the new season, Ward is still his old bureaucracy-cleaning self while Rohr remains true to his traditional, often illegal, ways.
What truly stands out about "City on a Hill" is the collective brilliance of the actors. Bacon owns the screen in his role as the brash antihero Rohr. Between using drugs and cheating on his wife, Jenny (Jill Hennessy, "Standing Up, Falling Down," 2019), Rohr is all about snatching the worm before everyone else. Meanwhile, Hodge, with all of his gravitas and morality, provides the perfect counterbalance to Bacon as Ward, the personification of all that is good and hopeful in Boston.
That being said, Season 2 is going to shake things up quite a lot as our leads face various new trials and tribulations. In an interview with EW, Bacon explained, "We're going through different levels of fear, terror [and] self-reflection when it comes to who these people are in the space they're in. Even Jackie has those moments where he has to look in the mirror and say, 'Who am I? And is this who I really want to be?'"
While Season 2 will see the return of series regulars Lauren E. Banks ("Plain Fiction," 2018), Mark O'Brien ("Blue Bayou," 2021), Amanda Clayton ("Dirty Dead Con Men," 2018) and Matthew Del Negro ("Magnum PI"), it will also feature a variety of guest stars, including Keiko Elizabeth ("How to Get Away with Murder"), Lucia Ryan ("The Last OG"), Kameron Kierce ("The Best of Enemies," 2019), Shannon Wallace ("Dynasty"), John Doman ("The Trial of the Chicago Seven," 2020) and Michael O'Keefe ("The Enemy Within").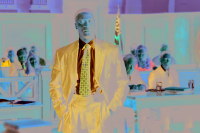 Aldis Hodge as seen in "City on a Hill"
The first season premiered in June 2019 and was renewed for a second season barely two months later. Filming for Season 2 began in late February 2020, just before the COVID-19 pandemic shut it down. Luckily, production was already completed on all eight one-hour episodes of Season 2 by that time, leaving mainly post-production duties.
The TV drama was originally inspired by a real-life campaign called the Boston Miracle, which led to a drastic decrease in the city's youth homicides in the 1990s. Created by a criminology professor named David Kennedy, the program was developed as a problem-oriented policing program aimed at preventing violence in U.S. cities. It earned its name after it pulled down the youth homicide rate by a staggering 63% in Boston, with particular focus on the Roxbury, Mattapan and Dorchester neighborhoods.
Despite being set in the '90s, the showrunners are keen on keeping the storyline attuned to current issues. In an effort to stay timely, the network was quick to discuss with writers and cast members as the Black Lives Matter movement reached new levels in 2020. They made sure the scripts were as on point and relevant as possible, while still staying faithful to the context of 1990s Boston.
A-list celebrities Ben Affleck ("The Way Back," 2020) and Matt Damon ("Jay and Silent Bob Reboot," 2019) top the list of executive producers, who, as Boston natives, have a unique talent for balancing authenticity with timeliness.
In addition to executive producing the show, Affleck is also responsible for the original idea behind the series, then brought to life by Chuck MacLean ("Marmalade," 2014) on a two-year contract. Following investigations into his alleged inappropriate comments last year, however, MacLean's involvement in the series has been scaled back for Season 2. If the show gets a third season, it's unclear whether he will be part of it.
One thing's for sure, though: the Season 2 renewal was nothing short of expected, thanks to the first season's "wicked-good acting," according to Rolling Stone magazine's TV critic Alan Sepinwall (something which Season 1's viewership numbers and ratings seem to corroborate).
Don't miss any of the intense drama or quick wit shared by Rohr and Ward as Season 2 of "City on a Hill" premieres Sunday, March 28, on Showtime.