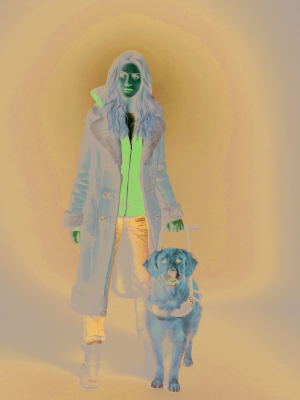 Perry Mattfeld and Levi star in "In the Dark"
Whether on the big or small screen, it's clear that Hollywood loves a good sidekick. Over the decades, we have seen numerous leads paired with annoying, sassy, wisecracking or highly intelligent (yet socially inept) partners. The reason behind the partnership is inconsequential and the result is always the same. From "48 Hrs." (1982), the pioneer of the buddy cop genre, to "The Heat" (2013), "The X-Files" and "The Odd Couple," the buddy genre is an entertainment staple that's showing no signs of going away.
If you dig deeper into that genre, you will find the popular animal sidekick subgenre. Look to virtually any Disney animated property and you will see an example of this, but the subgenre is not exclusive to the Mouse House or even animated films and series. Dogs are easily the most represented animal companion and make for great partners (see 1989's "Turner & Hooch"). No matter the circumstance, dogs are always game for an adventure. On Thursday, June 20, witness as Murphy Mason (Perry Mattfeld, "Shameless") and her trusted guide dog, Pretzel (Levi, a 7-year-old golden retriever making its acting debut), continue their quest to find a friend's killer in a new episode of "In the Dark," on CW.
Being a twentysomething in the big city is not easy. Being a blind one is even harder. Despite the modernization of our cities, most metropolises are not built for the blind or the visually impaired. Navigating this tough world is Murphy, a surly, young blind woman drifting through life without purpose. Angry at the world after losing her sight in her teens, she has become a bitter curmudgeon. More interested in the bottle and one-night stands than in settling down, Murphy exists in a self-destructive, boozy haze.
Trying to help her get back on track are her loving and well-meaning, albeit overprotective, parents, Joy (Kathleen York, "The West Wing") and Hank (Derek Webster, "NCIS: New Orleans"), who have given her a job at their guide dog training school, "Guiding Hope." Murphy is no model employee -- she spends most her time at the school sleeping off a hangover and doing the least amount of work possible.
Besides her one-off flings, Murphy is a lone wolf. Her loner lifestyle is in part by choice, but mostly due to her rude and boorish attitude. In short, she is unbearable. With that said, she does have two great friends: Jess (Brooke Markham, "Foursome"), her long-suffering veterinarian roommate and designated "bar eyes" who also works at the guide dog training school, and Tyson (Thamela Mpumlwana, "Frankie Drake Mysteries"), a teenage drug dealer who once saved her from a violent mugging.
Unfortunately for our protagonist, her small social circle is cut in half one fateful night. Returning home from a walk with Pretzel, she stumbles upon Tyson's lifeless body in the alleyway behind her apartment. To her dismay, the corpse mysteriously vanishes before the police arrive, leaving her as the only "witness." Naturally, the authorities do not take her story seriously, and they're not in a rush to investigate a bodiless murder, let alone that of a drug dealer.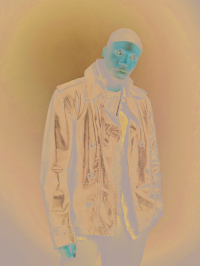 Keston John as seen in "In the Dark"
Finally finding purpose in her life, Murphy sets out to solve her friend's murder. Quickly realizing that solving a crime is not as easy as "Law & Order" makes it seem, she enlists the help of her loyal guide dog, Pretzel, her roommate, Jess, and Tyson's cousin, Darnell (Keston John, "Bosch"), a local gang leader who, like the police, initially dismissed Murphy's claims.
Over time, Dean Riley (Rich Sommer, "Mad Men"), one of the first police officers on the scene and father to a blind daughter (Calle Walton making her Hollywood debut), begins to sympathize with Murphy and ultimately starts to believe her story. Eventually Officer Riley joins Murphy and her Scooby gang of unskilled investigators.
Created by Corinne Kingsbury ("Fam") and produced by Ben Stiller ("Zoolander," 2001) and Michael Showalter ("The Big Sick," 2017), "In the Dark" takes a silly premise and turns it into something entertaining with heart. The Hollywood Reporter described the idea of a "nymphomaniac blind detective buddy dramedy" as a bad joke from an amateur improv game, but the series "has managed to avoid the many pitfalls often related to high-concept television series."
With veterans "Jane the Virgin" and "Crazy Ex-Girlfriend" ending their runs, CW is in desperate need of new crowd-pleasing hits. The freshman murder mystery looks to successfully fill that void with its offbeat premise and eccentric characters. On Thursday, June 20, check in with Murphy as she balances her colorful dating life and a job she hates, while also attempting to solve her friend's murder no matter the risk in a new episode of "In the Dark" on CW.