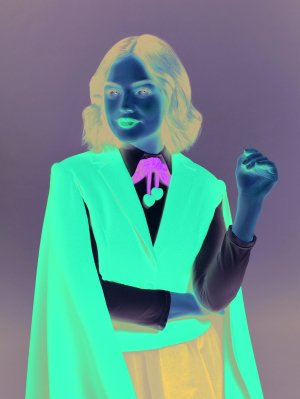 Lucy Hale stars in "Katy Keene"
One of the biggest prime time soap hits on television, "Riverdale," generated another spinoff this year, and this one is decidedly less spooky than the last. For those looking for something to contrast the dark (but fun) plotlines of "The Chilling Adventures of Sabrina," this series fits the bill. "Katy Keene" is a bright, feel-good show, almost the antithesis of its sister spinoff, but they do have a few things in common: vibrant characters, compelling storylines and, of course, lots of juicy drama.
"Katy Keene" premiered in February and you can catch a new episode airing Thursday, March 19, on CW. Lucy Hale ("Pretty Little Liars") stars as the titular Keene, and the series follows the fashionista as she and her friends chase their dreams in New York City. If you enjoy "Riverdale" but wish it had more impeccable outfits, featured singing and dancing and was less murdery, "Katy Keene" is for you.
The Archie Comics universe introduced the Katy Keene character in a 1945 issue of "Wilbur Comics," and she has made many appearances in other Archie comics over the years. This new series is the first time the character has been portrayed on-screen, aside from the one episode of "Riverdale" (titled "Chapter 69") that served as a backdoor pilot and aired the night before the new show's premiere. Naturally, Keene is an old friend of Veronica's (Camila Mendes, "The Perfect Date," 2019) from her New York days.
Through all of her iterations, Keene's characterization has been fashion-centric, whether she has appeared as a model, designer or social media influencer. This time around, Keene's interest in fashion is inspired by her mother, who made her own clothes and dreamed of having her designs sold at an upscale retailer called Lacy's. When we meet her in the pilot episode, Keene is an ambitious personal shopper but hasn't become a designer yet, unless you count the outfits she makes for her friends.
The bright lights of the Big Apple are what brings all of the main characters of "Katy Keene" together. A familiar face lands in the big city when Josie arrives to move into the spare room in Keene's apartment. That's Josie McCoy, formerly of Josie and the Pussycats, the premiere musical act in Riverdale. Ashleigh Murray reprises the role of McCoy, who has grown a lot since her "Riverdale" days. Since leaving her pussycats behind, McCoy has gone on tour with her father, a jazz musician, and has chosen New York City as the place to cultivate her solo career. She is noticed quickly as she sings with a busker, only to have the offer of a recording contract ripped from her hands by someone who will clearly be an entertaining villain.
Jorge Lopez (Jonny Beauchamp, "Penny Dreadful"), an aspiring Broadway star, is a roommate of Keene and McCoy. While he struggles by day in open auditions for upcoming shows like "Mannequin: The Musical," by night he thrives as Ginger, his drag persona, who wears custom Katy Keene designs and stuns her audiences with mashups of glamorous classics such as "Diamonds Are Forever" and "Material Girl." Inspired by the adoring fans at his drag performance, Lopez brings Ginger with him to the same audition he'd been cut from the day before, hoping to convince the director that he is capable of more. It doesn't work this time, but it's obvious that there is no stopping Lopez as long as he is being himself.
Ashleigh Murray as seen in "Katy Keene"
The most elusive member of the fab four is Pepper Smith, portrayed by Julia Chan ("Saving Hope"), who is the most well-connected person Keene knows. She is a socialite with many top-secret projects on the go with famous clients and friends.
It wouldn't be a CW drama without lovers and rivals. Keene's nemesis is a fellow personal shopper at Lacy's, Amanda, played by Hélene York ("The Other Two"). The two shoppers are pitted against each other for a promotion in the pilot episode and must prove themselves during a session with a literal prince. There supporting all of Keene's passions is her boxer boyfriend, KO Kelly, played by Zane Holtz ("From Dusk Till Dawn: The Series"). He springs two big surprises on Keene early in the season, but I won't spoil those for anyone clambering to catch up.
"Katy Keene" is part of a recent resurgence of fashion-centric television. "Project Runway" is well into its new iteration after moving back to Bravo from Lifetime in 2019; that show's original judges, Heidi Klum and Tim Gunn, star in an upcoming spinoff, "Making the Cut," on Amazon Prime; Netflix is streaming shows such as "Next in Fashion" and "Girlboss"; "What Not to Wear" is back on TLC after a seven-year hiatus; and that's just the tip of the iceberg. "Katy Keene" is a wonderful blend of fashion and drama, and there's plenty of appetite for both at the moment.
Who knows what could happen when the endless opportunities of a magical city like New York meet the ambitious young creatives eager to make it? Find out in the new episode of "Katy Keene," airing Thursday, March 19, on CW.