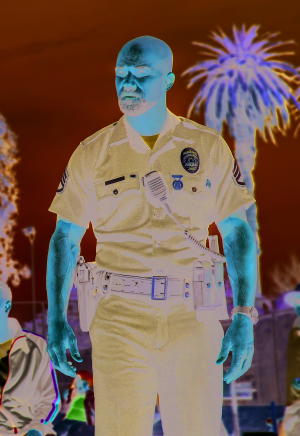 Shemar Moore stars in "S.W.A.T."
Action fans used to flock to movie theaters to catch the latest blockbusters, but these days, prime time has plenty of thrilling TV series. One show brings big-screen action to small screens each week with movie-quality stunts, sets and special effects, not to mention top-notch acting.
Shemar Moore ("Criminal Minds") portrays Daniel "Hondo" Harrelson, an L.A.-born-and-raised S.W.A.T. sergeant tasked with running a specialized weapons tactical unit in "S.W.A.T.," airing Thursday, Dec. 6, on CBS. In the drama, Hondo, a former marine, is torn between his loyalty to his colleagues in the unit and his dedication to the people of his community. Sensitive to the social injustices he has experienced as a black man, he is in a unique position to bridge the gap between the two worlds.
In a September interview with CBS WLNY about the new season, Moore explained the appeal of the show:
"Our signature is the action," Moore said. "We come in that truck with our gear and things are going to be blowing up. There's nothing like it on TV because we are making a movie-esque show. Then there's the life stories and the relationships. We are going to continue to hit on immigration and racial tensions, without preaching."
From the classic TV montage of the cast featured in the opening theme, the show may seem like a typical television drama, but high production values and action-packed storylines make it a cut above other prime-time fare. Now in its second season, "S.W.A.T." offers viewers a police procedural that delves into the personal lives of the characters as they band together to take out some of the most dangerous criminals in L.A.
It's a formula that's worked before. The show was inspired by both the 1975-76 Aaron Spelling-Leonard Goldberg TV drama and the 2003 action movie of the same name. Like the original ABC series and the film, CBS's reboot features an ensemble cast of talented performers, not the least of which is Moore. He won a Daytime Emmy for his role as Malcolm Winters in "The Young and the Restless."
Many TV viewers may recognize the actor from his 11 seasons as Derek Morgan in "Criminal Minds," which he left in 2016, much to the chagrin of fans. Within a year, however, news broke that he'd landed the role of Hondo in the new adaptation of "S.W.A.T.," finally earning leading-man status. He has big shoes to fill as Hondo, who was played by actor Steve Forrest ("Mommie Dearest," 1981) in the original TV series and Hollywood A-lister Samuel L. Jackson ("Pulp Fiction," 1994) in the 2003 movie.
Moore's "S.W.A.T." co-stars include Jay Harrington ("Better Off Ted") as Sgt. David "Deacon" Kay, a 10-year S.W.A.T. veteran who was passed over for the promotion Hondo received. Lina Esco ("London," 2005) plays fellow team member Christina Alonso, who is also a canine officer. "The Shield" alum Kenny Johnson is third-generation S.W.A.T. officer Dominique Luca, who serves as the unit's driver. David Lim ("Quantico") portrays Victor Tan, a one-time LAPD vice squad member with a network of informants. Australian actor Alex Russell ("Chronicle," 2012) rounds out the core cast as Jim Street, a cocky young officer who was kicked off the S.W.A.T. unit at the end of the first season and sent to the S.W.A.T. academy by Hondo.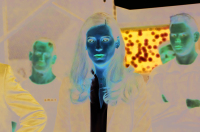 Stephanie Sigman in a scene from "S.W.A.T."
Stephanie Sigman ("Narcos") co-stars as Capt. Jessica Cortez, commanding officer and Hondo's former lover. Season 1 regular Peter Onorati ("This Is Us") continued his role as Hondo's rival, Sgt. II Jeff Mumford, in a recurring capacity this season. Meanwhile, Patrick St. Esprit ("The Hunger Games: Catching Fire," 2013), who appeared in the recurring role of Cmdr. Robert Hicks last season, has been promoted to a series regular for season 2.
In other season 2 news, the show snagged the incomparable Debbie Allen ("Fame") to guest star as Hondo's mother, Charice. Allen's niece, Angela Allen, is a writer on "S.W.A.T.," so the famed actress and director took a break from filming "Grey's Anatomy" to appear in the series in an episode entitled "Never Again," which aired on Thursday, Nov. 1. Last season, Obba Babatundé ("How High," 2001) guest starred as Hondo's father, Daniel Harrelson, Sr.
The show has been praised for its racially diverse cast, which has the potential to appeal to a wide variety of TV viewers. So far, "S.W.A.T." has been faring well in the ratings department, regularly pulling in more than five million live viewers. When DVR viewings are accounted for, the number of viewers sometimes reaches more than 10 million. This season was off to a slow start with the September premiere drawing just under five million viewers, but viewership grew over the course of the first several episodes and it looks as if Hondo and his team have earned some loyal fans.
Watch as he and his colleagues strive to keep Los Angeles safe in a new action-packed episode of "S.W.A.T.," airing Thursday, Dec. 6, on CBS.