Matthew Goode and Teresa Palmer star in "A Discovery of Witches"
A new TV series is about to cast its spell on North America. Witches, demons and vampires have been populating prime time for decades, and television's latest import brings them all together in one enchanting tale of dangerous magic and forbidden love.
Yale historian Diana Bishop (Teresa Palmer, "Lights Out," 2016) is researching alchemy at Oxford when she stumbles upon a magical manuscript in "A Discovery of Witches," premiering Sunday, April 7, on AMC and BBC America. Bishop, a witch, has suppressed her powers since her parents were killed for being witches when she was just a child. However, the book awakens her latent magical abilities and she's soon approached by Oxford biochemist Matthew Clairmont (Matthew Goode, "Chasing Liberty," 2004), a vampire, who offers to help her.
Based on the "All Souls" trilogy of novels by Deborah Harkness, the eight-episode series originally premiered in the U.K. on Sky One in September 2018. An instant hit with audiences and critics, the show has already been renewed for two more seasons by Sky One, and it was nominated for a National Television Award across the pond. Following its success overseas, AMC announced during the Television Critics Association (TCA) Press Tour in February that it would bring the program to North American audiences.
"Thanks to the critical acclaim and overwhelmingly positive audience response to 'A Discovery of Witches,' the series has found a new legion of fans," AMC executive Sarah Barnett said. "We are thrilled to bring it to a wider audience."
As the story unravels, Bishop and Clairmont embark on a thrilling adventure to uncover the mystery behind the origins of magical beings, such as themselves, whose populations have been dwindling for decades. Romance begins to blossom between the two, but love between witches and vampires is forbidden, according to a long-standing rule. All the while, Bishop struggles to control her newly awakened powers, and Clairmont endeavors to protect her. Trouble brews between supernatural factions as vampires and witches go head to head, upsetting the equilibrium that's existed between the two groups for many years.
What follows is a captivating tale about a centuries-old conflict and a fresh love affair, brought to life by a capable cast. Palmer is no stranger to the supernatural genre, having appeared in the romantic zombie comedy "Warm Bodies" (2013) and the horror film "Lights Out" (2016). The Australian actress also co-wrote and co-produced the drama "The Ever After" (2014).
Goode earned a Teen Choice nomination for his breakthrough role in the romantic comedy "Chasing Liberty," and was also praised for his work in "Brideshead Revisited" (2008). Fans of superhero films may recognize him as Ozymandias from the 2009 film "Watchmen." His television credits include "Downton Abbey," "The Good Wife," "Dancing on the Edge" and Netflix's "The Crown," for which he earned an Emmy nomination.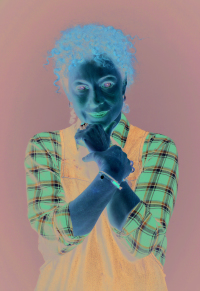 Alex Kingston as seen in "A Discovery of Witches"
The cast of "A Discovery of Witches" also includes Edward Bluemel ("The Commuter," 2018) as Clairmont's vampire son and lab colleague, Marcus Whitmore. Aiysha Hart ("Atlantis") plays Miriam Shephard, another vampire who works at Oxford. British film and television actor Trevor Eve ("Waking the Dead") is seen as ancient vampire Gerbert d'Aurillac. Tony winner Lindsay Duncan ("Rome") portrays the vampire matriarch of the Clairmont family, Ysabeau de Clermont.
The show's Wiccans include Louise Brealey ("Sherlock") as Gillian Chamberlain, another academic and Bishop's fellow witch at Oxford. "Game of Thrones" alum Owen Teale stars as high-ranking witch Peter Knox, while Swedish actress Malin Buska ("The Girl King," 2015) appears as Finnish witch Satu Jarvinen. Alex Kingston, who memorably appeared in both "ER" and "Doctor Who," portrays Bishop's aunt, Sarah, while Valarie Pettiford ("Half & Half") plays Sarah's partner, Emily.
"A Discovery of Witches" also features a cast of recurring characters that includes demons Agatha Wilson (Tanya Moodie, "Sherlock"), Agatha's son, Nathaniel (Daniel Ezra, "Prey"), his wife, Sophie (Aisling Loftus, "War & Peace"), and Hamish Osborne (Greg McHugh, "Gary: Tank Commander"). Juliette Durand (Elarica Johnson, "EastEnders"), Domenico Michele (Gregg Chillin, "Da Vinci's Demons"), Marthe (Sorcha Cusack, "Father Brown") and Matthew's brother, Baldwin Montclair (Trystan Gravelle, "Mr Selfridge"), round out the vampires. The program features a few humans, including librarian Sean (Adetomiwa Edun, "Merlin"). Chloé Dumas ("The Follower," 2017) appears as the mysterious Meridiana.
Averaging more than a million viewers per episode on Sky One, the show's initial run was a smashing success by U.K. standards. Buzz has already been building about Seasons 2 and 3, which will be based on the second and third books in the series, "Shadow of Night" and "The Book of Life." As the story continues, the series is expected to delve into Clairmont's past and explore the mysteries surrounding Bishop's powers.
TV aficionados predict the series will find an enthusiastic audience in North America, where the supernatural TV trend is still going strong, thanks to shows such as "The Walking Dead," "Charmed" and "Supernatural." While TV fans across the pond will have to wait for Seasons 2 and 3, the fun is just getting started for TV viewers on this side of the Atlantic. Indulge in television's latest version of a page-turner as a witch tries to unlock magical secrets while falling for a dashingly handsome vampire in "A Discovery of Witches," premiering Sunday, April 7, on AMC and BBC America.