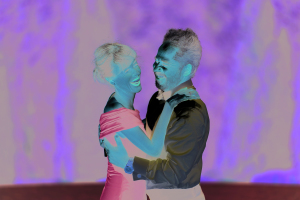 Cecilia Suárez and John Ortiz star in "Promised Land"
Come in from the January cold and join the Sandoval family at their California winery for the premiere of "Promised Land," airing Monday, Jan. 24, on ABC. Even if the Sonoma Valley sun isn't enough to heat you up, the cutthroat family drama will surely make your blood boil.
Starring John Ortiz ("Messiah") as patriarch Joe Sandoval, "Promised Land" follows the Sandovals as they tend to their family business, Heritage House winery. Fans of fast-paced corporate dramas such as "Succession," "Billions" and "Monarca" may also want to take note, as ABC's series descriptions vow "an epic, generation-spanning drama about a Latinx family vying for wealth and power in California's Sonoma Valley."
Rounding out the family of winemakers are Cecilia Suárez ("The House of Flowers") as Lettie Sandoval, Christina Ochoa ("Animal Kingdom") as Veronica Sandoval, Mariel Molino ("La Negociadora") as Carmen Sandoval and Tonatiuh ("Vida") as Antonio Sandoval. The rest of "Promised Land's" confirmed cast includes Augusto Aguilera ("Made for Love") as Mateo Flores, Andres Velez ("Coyote Lake" 2019) as Carlos Rincón, Katya Martín ("The Affair") as Juana Sánchez, Rolando Chusan ("Invasion") as Billy Rincón and Bellamy Young ("Scandal") as Margaret Honeycroft.
In an official trailer for the upcoming series released by ABC, Joe appears as the founder of Heritage House in a mock advertisement for the winery. While claiming that he "came to this valley with nothing but some dirt and a dream," sprawling vistas of the vineyard turn into idyllic shots of workers harvesting grapes and packing bottles. The visibly wealthy Sandovals appear in snapshots as Joe sells the vision of Heritage House and notes his "legacy continues through [his] family."
It's at this moment that viewers get a glimpse of someone being thrown into a pool, a high-priced auction and a steamy moment of passion, all packaged as a montage illustrating the wealth, class and power of the Sonoma Valley Sandovals. Based on the trailer, audiences can expect to see a seemingly close-knit, successful family reveal the sacrifices and betrayals that have made them into the brand they try to uphold. It's dangerous at the top when you have everything to lose.
While TV audiences have already been drawn into the heartwarming family life of the Pearsons in "This Is Us" and the back-stabbing businesses of Carringtons and the Colbys in "Dynasty," the Sandovals have a lot of fan potential with their own unique brand (some might say "vintage") of drama.
Matt Lopez, known for writing/producing the WGN America procedural "Gone" and for writing the 2010 Nicolas Cage-led adventure film "The Sorcerer's Apprentice," has signed on to "Promised Land" as creator, writer and executive producer. And if his credits are any indication of what the new series has in store, audiences can count on some unexpected twists and a lot of fun.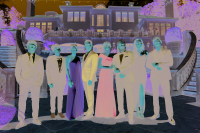 The cast of "Promised Land"
ABC has so much faith in Lopez's ability to deliver a hit that it announced an overall deal with the multi-talented creator in November 2021, with ABC Signature president Jonnie Davis telling Deadline that, "Matt Lopez is homegrown Disney talent who has worked on the feature side for years."
"His upcoming 'Promised Land' is a love letter to his family, especially his Cuban grandfather," Davis continued of Lopez. "When he shared this personal story with us and our friends at ABC, we all knew this had to be a television series, and we believe it will be the first of many from this unique and talented writer."
Lopez uses elements of his own family's history to lean into the dark side of land ownership in the United States. With an all-Latinx cast and a primarily Latinx crew, the Latin-American elements of the series are strong and steadfast as they carry the plot along through rivalries, business deals and possibly even murder.
In addition to his ongoing TV projects, Lopez is behind the eagerly anticipated upcoming big-screen reimagining of 1991's "Father of the Bride." Andy Garcia ("Rebel") and Gloria Estefan ("Music of the Heart" 1999) star in the remake of the classic comedy, with the titular bride portrayed by "Sweet Girl" (2021) star Isabela Merced.
"Promised Land" joins a few other new additions to ABC's prime-time lineup, including a reboot of the classic '80s sitcom "The Wonder Years," this time set in late 1960s Montgomery, Alabama, and starring Elisha Williams ("Puppy Dog Pals") and Dulé Hill ("Psych").
"Abbott Elementary," meanwhile, continues the legacy of the perpetually funny single-camera mockumentary. The already critically acclaimed sitcom stars "A Black Lady Sketch Show's" Quinta Brunson (she also created the series), Tyler James Williams ("Everybody Hates Chris"), Janelle James ("Black Monday"), Lisa Ann Walter ("The Parent Trap" 1998) and Sheryl Lee Ralph ("Moesha").
On the drama side of the coin is "Queens," ABC's new ensemble series about a quartet of '90s hip-hop legends who reunite after a decades-long hiatus. It stars Brandy Norwood ("Moesha"), Eve ("Whip It" 2009), Naturi Naughton ("Power Book II: Ghost") and Nadine Velazquez ("My Name Is Earl").
Don't miss the series premiere of the brand-new family drama, "Promised Land," on Monday, Jan. 24, on ABC.