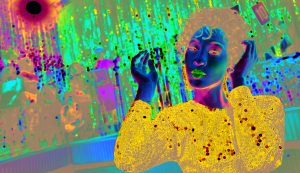 Mj Rodriguez stars in "Pose"
A lot of television series offer viewers typical slice-of-life stories, but TV also has the power to uplift, inspire and educate. One new drama is doing all three by exploring the history of the LGBTQ house ball subculture.
In 1986 New York, LGBTQ performers face off in house ball competitions where they're judged on their outfits, attitude and dance skills in various categories in the new musical drama "Pose," airing Sunday, June 24, on FX. Set against a backdrop of the luxury Trump era, the show also explores the personal lives of the performers as they celebrate finding a space where they are accepted for who they really are, while also coping with rejection, discrimination, rivalries and more.
"Pose" hails from modern-day TV dream team Ryan Murphy ("Glee") and Brad Falchuk ("Scream Queens"), along with up-and-coming writer Steven Canals ("Afeura," 2016). Murphy's commitment to supporting the community featured in the show is more than just lip service. In May, he announced via Twitter that he would be donating all profits from the series to trans and LGBTQ charitable organizations, and went on to explain his actions to Variety.
"We've entered this era of television as advocacy, and I've seen the difference you can make in people's lives by showing up for them, caring for them, and helping them in any way that you can," Murphy said.
He also revealed he plans to hit up his bosses at 20th Century Fox and FX for donations, hopes to hold fundraisers and is even considering setting up scholarships for LGBTQ youth.
"Pose" isn't only groundbreaking for raising awareness about the LGBTQ community, but also because the show boasts the largest cast of transgender actors in series regular roles. The show also features the largest recurring cast of LGBTQ actors ever for a scripted series. All in all, the production has employed more than 100 trans performers and crew members. Rather than relying on big-name actors with no personal connection to the subject matter to draw viewers, "Pose" allows transgender performers to share a part of their community's history.
The core cast includes several transgender women of color. Mj Rodriguez of "Nurse Jackie" and "Luke Cage" fame stars as Blanca Rodriguez, who leaves the House of Abundance to form her own house, House of Evangelista. Dominique Jackson ("Visible: The LGBTQ Caribbean Diaspora," 2018) plays Blanca's former house mother, Elektra Abundance. In 2016, thousands of TV viewers watched Jackson in Oxygen's six-episode reality TV series "Strut," which chronicled the lives of transgender models.
Always at Elektra's side is Lulu Abundance (Hailie Sahar, "Transparent"), second-in-command at House Abundance. A dancer and singer, Sahar has also been crowned Miss L.A. Pride, and Queen U.S.A. Fashion fans may recognize trans cast member Indya Moore ("Saturday Church," 2017), a model who's worked for Gucci and Dior. Moore portrays Angel, a streetwalker who begins to develop feelings for a client. Actress, businesswoman and transgender rights advocate Angelica Ross ("Her Story") stars as Candy, a member of House Abundance, who can be sensitive about her appearance.
Indya Moore as seen in "Pose"
Blanca's House of Evangelista serves as a surrogate family for LGBTQ youth who've been rejected by their birth families. One of those family members is dancer Damon Richards, played by newcomer Ryan Jamaal Swain. Obie Award-winning actress and playwright Charlayne Woodard ("Law & Order: Special Victims Unit") takes on the role of prominent dance instructor Helena St. Rogers, who takes a keen interest in Damon and becomes his trusted confidante.
A chance encounter with Damon leads streetwise Ricky (Dyllon Burnside, "High Maintenance") to consider joining the house as well. Burnside rose to prominence thanks to his Broadway role in "Holler if Ya Hear Me," a musical inspired by the music and lyrics of Tupac Shakur. Speaking of Broadway, Tony Award winner Billy Porter ("The Broken Hearts Club: A Romantic Comedy," 2000) stars as Pray Tell, a grandfather figure who watches over all of the "children" who compete in the house balls. A veteran of the stage, Porter won his Tony for his portrayal of Lola in the musical "Kinky Boots," a role he originated in 2013.
The cast also includes Evan Peters ("American Horror Story") and Kate Mara ("House of Cards") as affluent New Jersey couple Stan and Patty Bowes. As they are drawn into the glamour and intrigue of 1980s New York, Stan begins seeing Angel on the side. James Van Der Beek ("Dawson's Creek") portrays Stan's kingpin boss, Matt Bromley. "Pose" marks the television series debut of Angel Bismark Curiel ("America Adrift," 2016), who plays risk-taker Lil Papi.
Together, the cast, crew and writers tell a story longing to be told as LGBTQ youth still struggle to find acceptance in many parts of the world. It isn't too late to jump on board as the series premieres its fourth episode, entitled "The Fever." This week, Candy is criticized during a ball, which intensifies her feelings of insecurity about her appearance. Meanwhile, Blanca is concerned that a medical scare could tear Damon and Ricky apart. But it isn't all gritty drama -- the show celebrates LGBTQ culture with music, glamour and plenty of glitter. Don't miss this week's "Pose," airing Sunday, June 24, on FX.