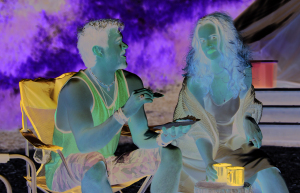 Arturo Del Puerto and Juliette Lewis in "Camping"
'Bearly' comedy: Ah, camping. Such a wonderful way to get back to nature -- a way to unwind and destress. At least, that's what it's supposed to be like. Like all things in life, a camping trip doesn't always work out the way it's supposed to, but as eventful as a wilderness getaway can be, an entire TV show based on a single camping trip can sound like a stretch.
It shouldn't, though. HBO's new comedy, "Camping," premieres Sunday, Oct. 14, with some top-tier talent on screen and a premise that's already proven successful across the Atlantic. Based on the British series of the same name, "Camping" stars Jennifer Garner ("Alias") and David Tennant ("Doctor Who") as Kathryn and Walt, a married couple with plans to spend Walt's 45th birthday with a nice, quiet weekend getting back to nature.
Naturally, things don't go quite as planned when some family and friends come along for the trip. Oscar nominee Juliette Lewis ("Secrets and Lies"), Arturo del Puerto (Independence Day: Resurgence," 2016), Janicza Bravo ("In a World...," 2013) and Brett Gelman ("Stranger Things") play the various tag-alongs who make the aggressively domineering Kathryn lose control of the trip, and who push an already unhappy marriage dangerously close to the edge.
Of course, there are also bears, because what camping trip would be complete without some furry "friends?" Join Kathryn and Walt as they get back to nature when "Camping" premieres Sunday, Oct. 14, on HBO.
Back by 'design': Reboots of classic shows just keep on coming, but with the ratings that they've been raking in for the big networks, it's easy to see why. "Murphy Brown" and "Magnum P.I." both recently kicked off their new versions, with "Magnum" rebooting the series and "Brown" revived with both the old cast and some new faces, and ABC has ordered a script for yet another classic.
"Designing Women" was an audience favorite during its original run from 1986 to 1993, and the potential return will be a sequel rather than a straight reboot, following a new generation of Sugarbaker women working at an interior design company in Atlanta. The potential series is still early in its planning stages and there haven't been any casting decisions made yet, but original series creator Linda Bloodworth-Thomason and executive producer Harry Thomason are on board and have been laying the groundwork for months.
The series originally starred Dixie Carter ("Desperate Housewives"), Annie Potts ("Young Sheldon"), Jean Smart ("Legion") and Delta Burke ("What Women Want," 2000) as a group of interior designers who collectively own or work at Sugarbaker and Associates Designs. Although the cast went through some major changes in the show's last two seasons, the sitcom never lost its sharp-edged wit or its social relevance.
One of "Designing Women's" biggest points of distinction was its refusal to avoid the controversial topics of the day. Racism, homophobia, spousal abuse, social attitudes toward the obese and the AIDS epidemic were all addressed and tackled head-on, grounding the series and giving it a levity that was almost unheard of in the sitcoms of its era.
With only a script ordered, "Designing Women" still has a long road to tread before it can ever make it to TV screens, but if it does, it will bring back that same blend of laughs and levity.
Whosungit?: An international phenomenon is making its way to America. Fox has begun production on musical competition series "The Masked Singer" for a planned January premiere date, with comedian and former "America's Got Talent" presenter Nick Cannon serving as both host and executive producer.
"The Masked Singer" isn't like anything else out there. It's a singing competition, but for professionals -- not amateurs. Each episode will feature two celebrity singers going head to head in a sing-off, but there's a big catch: both of them will be wearing elaborate costumes that disguise their identities, complete with masks that entirely cover their faces.
Each week, one of the singers will be eliminated and finally reveal his or her identity -- but not a moment before. It's an impressive roster of performers that's been lined up, too, with 65 Grammy nominations, 16 Emmy nominations, 16 multi-Platinum albums, nine Broadway shows, four Super Bowl titles and four stars on the Hollywood Walk of Fame amassed between them.
Of course, we aren't being told who any of these performers are ahead of time -- that would spoil the surprise -- but astute viewers might be able to do some detective work once the masked figures start performing on stage. Actor Ken Jeong ("Community"), model Jenny McCarthy ("The View"), singer/songwriter Nicole Scherzinger ("Dancing with the Stars") and singer/songwriter Robin Thicke serve as the show's panel, working as detectives to try to tease out each performer's identity.
"The Masked Singer" originated in South Korea and is a massive hit there and in every other country where it's been adapted, and Fox is hoping that success can find a home in North America. The competition gets underway in January.