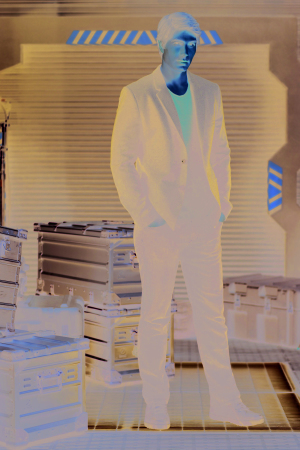 Brandon Routh stars in "DC's Legends of Tomorrow"
The holiday season is shaping up to be a real treat for comic book lovers and superhero fans. This month alone we will see "Spider-Man: Into the Spider-Verse," "Once Upon a Deadpool" and DC Comics' "Aquaman" hit the big screen. While Spidey and others dominate the cineplexes, relax, catch up with your favorite small-screen heroes and enjoy some out-of-this-world action as they continue their battle against the most dangerous criminals in the universe in an episode of "DC's Legends of Tomorrow," airing Monday, Dec. 17, on CW.
For years entertainment pundits have predicted that the superhero bubble would burst. It's just a matter of time, they'd say, as with all entertainment trends, before people eventually tire of these types of stories and move on to something else (see the western). It seems, however, that the general public is quite content with the numerous superhero tales found on the big and small screen these days, and is not quite ready to move on.
We are living in a golden age of television, and that extends to the superhero genre as well. Taking full advantage of the medium's potential, CW and DC have created a rich universe to showcase some of their best and most interesting characters and storylines. Since the debut of "Arrow" in 2012, the series has served as a launching pad for numerous new characters who have gone on to star in their own series, and in turn launch other characters such as The Flash. The Arrowverse is made up of the aforementioned "Arrow" and "The Flash," as well as "Supergirl," "DC's Legends of Tomorrow" and two web series.
In "DC's Legends of Tomorrow," we follow a rag-tag team of dysfunctional time-traveling superheroes assembled by Rip Hunter, the Time Master (Arthur Darvill, "Broadchurch") as they battle havoc-wreaking villains.
The ever-growing Legends team is primarily comprised of Ray Palmer/Atom (Brandon Routh, "Chuck"); Sara Lance/White Canary (Caity Lotz, "Mad Men"); Martin Stein (Victor Garber, "Alias") and Jefferson "Jax" Jackson (Franz Drameh, "Edge of Tomorrow," 2014), who make up Firestorm; Kendra Saunders/Hawkgirl (Ciara Renée, "Master of None"); Carter Hall/Hawkman (Falk Hentschel, "The Alienist"); Leonard Snart/Captain Cold (Wentworth Miller, "Prison Break"); and Mick Rory/Heat Wave (Dominic Purcell, "Prison Break").
Over the course of three seasons, the Legends have fought many battles against Vandal Savage (Casper Crump, "The Legend of Tarzan," 2016), Damien Darhk (Neal McDonough, "Desperate Housewives") and other dastardly foes, but it seems that they have finally met their match.
Last season ended on a triumphant note as the team celebrated the defeat of the demon Mallus, but unfortunately things aren't as easy as they'd hoped. By defeating the season's big bad, the team created more problems. Bigger problems. The barrier between worlds has softened and magical creatures are penetrating our heroes' world like never before.
Caity Lotz as seen in "DC's Legends of Tomorrow"
This season, the team, along with John Constantine (Matt Ryan, "Constantine"), must contend with magical creatures from myths, fairy tales and legends. These "fugitives," as our heroes refer to them, are extremely dangerous and have only death and destruction on their minds. Will our heroes be able to fend off these monsters? And how will the disintegrating barrier between worlds impact the rest of the Arrowverse? Only time will tell, but what is certain is that it will be a wild ride.
Due in large part to the massive success of the Marvel films, we live in a time of shared universes. Nowadays, everything from "John Wick" (2014) to "The Conjuring" (2013) is trying to get in on the action by creating series destined to spawn spinoffs, sequels, prequels and even the rare sidequel. Most of these cinematic universes have failed to take off (see the Dark Universe) or have been underwhelming both critically and commercially, but the Arrowverse and "DC's Legends of Tomorrow" have succeeded where most have failed. This success can be attributed to interesting characters, compelling plots and solid villains, among many other factors.
Over the years, DC has earned a reputation for its dark, grim and ultra-serious films such as the recent blockbusters "Man of Steel" (2013) and "Batman v Superman: Dawn of Justice" (2016). Yet the company has taken a completely different approach for its television properties. Unlike Ben Affleck's brooding (and extremely violent) Batman, the heroes seen in the Arrowverse, and especially in "DC's Legends of Tomorrow," are fun, quippy, flashy and absolutely over the top.
Week after week, the time-traveling misfits visit new and fascinating places like Victorian London and 17th-century feudal Japan where they take on often ridiculous villains. The way Firestorm and the gang defeat these villains is equally ridiculous. Case in point: last season ended with an epic battle between a stuffed toy (think of a Tickle Me Elmo) and a dragon demon. In short, the series is a unique breath of fresh air that does not take itself too seriously.
On Monday, Dec. 17, recover from the stunning events of the "Elseworlds" crossover and reacquaint yourself with "DC's Legends of Tomorrow" as they take on magical creatures from myths, fairy tales and legends on CW.