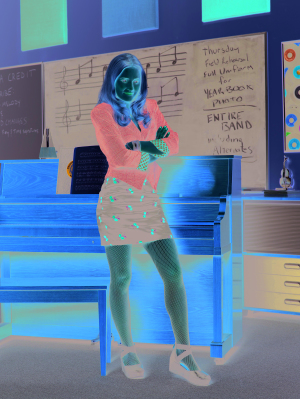 AJ Michalka stars in "Schooled"
Back to 'Schooled': 'Tis the (mid-)season for premieres. After a month of shifting schedules and holiday specials, networks are rolling out new episodes of returning shows this week, as the second half of the 2019-20 TV season gets underway.
ABC's "Schooled" is one such series, with new episodes beginning next week (Sunday, Jan. 15, to be exact). Its return wasn't exactly in doubt, but until last month, it was the last broadcast series still waiting on a back order.
Fortunately, "Schooled" eventually landed a full season order that will extend its second-season run to 22 episodes. And as it turns out, the hold-up was due to the search for a new showrunner.
Producer Tim Doyle had taken over from co-creator Marc Firek at the start of "Schooled's" sophomore season. He has since left the '90s-set comedy over creative differences, though the former "Kids Are Alright" creator is still under contract with ABC Studios.
Series co-creator Adam F. Goldberg stepped in after Doyle's exit, but he has his hands full with project development for Disney's networks and platforms. Goldberg will continue to be involved, but co-executive producers Tom Hertz and Vanessa McCarthy will serve as showrunners for the remainder of Season 2.
It was one year ago that "Schooled," starring AJ Michalka ("The Goldbergs"), Bryan Callen ("Kingdom"), Tim Meadows ("Saturday Night Live") and Brett Dier ("Jane the Virgin"), made its debut as a mid-season series. After that inaugural 13-episode run, the "Goldbergs" spinoff landed a choice spot in ABC's 2019-20 lineup, right between its parent series and "Modern Family." Since then, it's been pulling in solid ratings. And since it clearly has network backing, it appears the future looks bright for the students and staff at William Penn Academy.
A royal biopic-in-waiting: Starz is reviving our royal fascination with a young Queen Elizabeth -- not the current monarch of the United Kingdom, Canada and other Commonwealth realms, but the Tudor Queen who was crowned in 1558.
The premium cable network has greenlit a new historical period drama titled "Becoming Elizabeth." As the title implies, the limited series will focus on the early life of Elizabeth Tudor, the future Queen Elizabeth I, who went on to become one of England's most iconic rulers, and arguably the most filmed one, too (Cate Blanchett has played her twice on the big screen, in 1998's "Elizabeth" and 2007's "Elizabeth: The Golden Age").
The true story provides plenty of plot twists that will surely make for some interesting storylines. "Becoming Elizabeth" will start with Elizabeth's teenage years, when, upon the death of King Henry VIII, his children -- Mary, Elizabeth and son Edward -- find themselves embroiled in politics and tangled up in the webs spun by the English court's scheming power brokers.
British playwright/screenwriter Anya Reiss ("EastEnders") is behind this new series. "Drama seems to skip straight from Henry VIII's turnstile of wives to an adult white-faced Gloriana," explained Reiss in a news release. "Missing out boy kings, religious fanatics, secret affairs and a young orphaned teenager trying to save herself from the vicious scramble to the top. I should have found it hard to relate to 500-year-old royalty, but Elizabeth lived in dangerous, polarizing times and often made terrible hormone-fueled decisions. I've found writing her story a thrilling experience."
It's still early to talk of a premiere date, but the series will consist of eight episodes penned by an all-female writing team. That happens to be the same initial episode order that was handed to another Tudor-themed scripted series on Starz, "The Spanish Princess," which was renewed last June. Look for that one to wrap in 2020.
Company loves 'Misery': "The Misery Index" recently ended its freshman season. But fear not, fans, there is more to come: TBS has renewed the game show for a second season.
Hosted by Jameela Jamil ("The Good Place"), "The Misery Index" is the brainchild of "Monk" and "The Good Cop" creator Andy Breckman. It's all about finding the humor and appreciating the horror in other people's misfortunes.
In essence, you've got two teams, and each one pairs a contestant with two Impractical Jokers -- Brian "Q" Quinn, James "Murr" Murray, Joe Gatto and Sal Vulcano of the comedy troupe The Tenderloins (you might have seen them on truTV). The teams compete to rank true tales of mishaps and misery on a scale of 1-100 (hence the title), based on a system created by a team of therapists.
The game show has pulled in almost 28 million viewers across all platforms, which puts it in the top five of new cable comedy shows. So the renewal makes a lot of sense from a business perspective alone.
With "The Good Place" (tragically) coming to an end later this month, the renewal of "The Misery Index" means Jamil won't be disappearing from our screens any time soon.
But unlike co-stars Ted Danson, who will star in a new Tina Fey-NBC comedy series, and Kristen Bell, who is busy with "Gossip Girl" 2.0 and a slew of voice-over work, Jamil's list of upcoming projects isn't quite as lengthy.
You will next hear her voice on "Mira, Royal Detective," Disney Junior's animated mystery-adventure series that is aimed at preschoolers. It will also feature the voices of "Slumdog Millionaire" (2008) star Freida Pinto and "Harold & Kumar's" Kal Penn (consider this a nod to Jamil's name-dropping "Good Place" character). It's scheduled to premiere this spring.