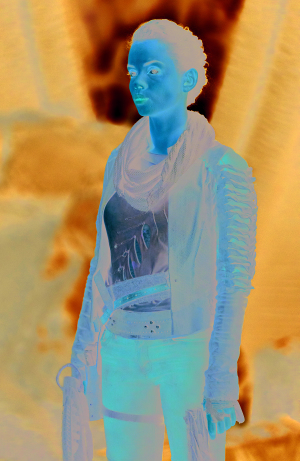 Georgina Campbell as seen in "Krypton"
Back to 'Krypton': Audiences have a chance to return to Superman's home world, and things there are even more dire now that a new supervillain is threatening it. Last spring, Syfy's "Krypton" peeled back some of the mysteries that surround the legendary planet, and with a second season in the works, the casting of new characters is underway.
Irish actor Emmett J. Scanlan has come aboard to play Lobo, one of DC Comics' most hardened villains. Scanlan may not have had much of a presence on this side of the Atlantic up until now, but some audiences may recognize him from a small role he had in "Guardians of the Galaxy" (2014). He's much more established in his home country and in the United Kingdom, where he starred in British soap opera "Hollyoaks" from 2010 to 2013.
No premiere date for the second season has been announced, nor have many details beyond what can be gleaned from how the first season ended. "Krypton" stars Cameron Cuffe ("The Halcyon") as Seg-El, Superman's grandfather, who is visited by a mysterious figure who delivers a dire warning from the future. Georgina Campbell ("Black Mirror") stars as a military commander and Seg-El's secret lover, and Colin Salmon ("Resident Evil," 2002) plays Gen. Zod.
As for what we do know about the sophomore season, in addition to Lobo, the DC characters Nightwing and Flamebird will be making an appearance. The first season dealt with whether the nearly unstoppable Doomsday would be released to fight Brainiac (Blake Ritson, "Da Vinci's Demons"), and the fallout of that conflict still reverberates through Krypton's society.
"Krypton's" first season premiered last March, so that may be a good indication of when the second one will arrive. One thing is for certain: the stakes couldn't be any higher for Superman's home planet in this new take on the DC Comics universe.
Comedy, animated: Fox continues to expand its slate of animated series. After announcing a straight-to-series order for "Bless the Harts" back in September, the network has handed out a 13-episode order for another new series.
"Duncanville" comes from the minds of Golden Globe-winning actress Amy Poehler ("Parks and Recreation") and the husband-wife combo of Mike and Julie Scully, who are former "The Simpsons" writers. The series, which is set to premiere in the 2019-20 TV season, is centered on Duncan, a 15-year-old boy who's best described as "spectacularly average."
In addition to serving as an executive producer, Poehler will also provide the voices for two of the characters. Not only will she be voicing Duncan himself, but also his mother, Annie, whose biggest challenge in life is stopping her son from ruining his own life with his antics.
A woman voicing a boy is nothing new in animations, and Bart Simpson is probably the most famous example. The iconic, spikey-haired 10-year-old has been voiced by Nancy Cartwright ("The Replacements") since his very first appearance in "The Tracey Ullman Show" in 1987. Poehler's former "Parks and Recreation" co-star Rashida Jones ("Angie Tribeca") and rapper Wiz Khalifa are also lending their voice talents to the new series.
Watch for "Duncanville," along with Fox's other new animated series "Bless the Harts," to premiere in the 2019-20 TV season.
Sleep well: Christmas can be a tiring time of the year. With all of the shopping, wrapping and festive get-togethers going on, it can be such a relief to finally hit the hay at night for some rejuvenating shut-eye. For two total strangers, though, that refreshing sleep is frustratingly elusive.
Freeform's Christmas celebrations continue with "No Sleep 'Til Christmas," a new original movie that premieres Monday, Dec. 10. Odette Annable ("Cloverfield," 2008) stars as Lizzie, an event planner who is spending the holidays preparing for her own wedding. It's a stressful thing to plan during a stressful time of the year, and her crippling insomnia certainly doesn't help, especially since her fiancé, Josh (Charles Michael Davis, "The Originals"), isn't having any trouble sleeping.
Things change when Lizzie runs into Billy (Dave Annable, "Brothers & Sisters"), a bartender who's also suffering from insomnia -- and who's just as frustrated by his inability to sleep. When the two sleep-deprived strangers discover that they don't have any trouble dozing off when they're next to each other, their chance meeting starts to take on a deeper meaning -- one that they're reluctant to admit.
It's a stressful time of the year, but some good quality sleep can definitely help -- and so can a feel-good movie. "No Sleep 'Til Christmas" premieres Monday, Dec. 10, on Freeform.