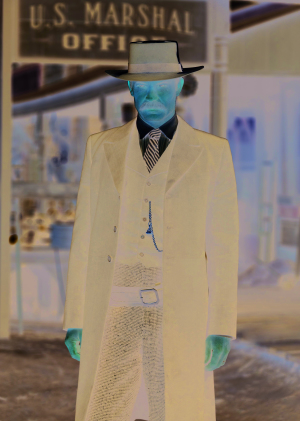 Timothy Olyphant stars in "Deadwood: The Movie"
HBO's long-awaited movie-length footnote to David Milch's 2004 to 2006 series "Deadwood" finally rides into town on Friday, May 31, providing fans an official conclusion after more than a decade of anticipation.
Miraculously, nearly everyone from the original cast has returned for "Deadwood's" swan song. The two faces of the series, Ian McShane ("American Gods") and Timothy Olyphant ("Justified"), reprise their respective roles as cutthroat saloon proprietor Al Swearengen and stubbornly principled lawman Seth Bullock. Olyphant and McShane are only two of the many returning "Deadwood" alumni who went on to find enormous success elsewhere after the 2006 demise of the show, including Paula Malcomson ("Ray Donovan"), Dayton Callie ("Sons of Anarchy"), Anna Gunn ("Breaking Bad"), Robin Weigert ("Marvel's Jessica Jones") and Brad Dourif ("Once Upon a Time"). Against all odds, the huge ensemble cast has reconvened to deliver one final send-off to the show that gave many of them their break in the television industry.
Back in 2004, "Deadwood" was an unusual creature. It had the superficial trappings of a classic western but refused to indulge in the sort of palatable good-versus-evil tales found in many examples of that genre. Cowboy/outlaw duels and fancy gunplay set pieces were replaced with terrifying and realistic outbursts of violence, and the show seemed obsessed with exploring the thin line between civilization and chaos, using the illegal frontier settlement of Deadwood, North Dakota, as the crucible for its analyses. The language in "Deadwood" eschewed historical realism in favour of dense, ornate dialogue packed with modern profanity that called to mind an obscene Shakespeare more than it did a doughty man of few words like Clint Eastwood.
When "Deadwood" premiered, it was an immediate critical darling, but it never found the ratings footing it needed to survive beyond three seasons. The critical acclaim never slowed over those three years, with the show winning eight Emmys (from a total 28 nominations), but other factors eventually led to the show's demise. "Deadwood" was notorious for its chaotic set, with its unpredictable showrunner, David Milch ("NYPD Blue"), doing things like rewriting dialogue for performers on the fly or replacing scripts with completely rewritten material immediately before a day of filming began. Between the modest ratings and the stressful set, "Deadwood" was a logical target for cancellation, and in a surprise decision following the Season 3 finale, HBO announced that it would not be picking up the cast's options, indicating that a fourth season was unlikely. The HBO brass and Milch parted amicably, with HBO going out of its way to declare that the show was not officially canceled as such, and the door was left open to a continuation of the series in one form or another somewhere down the road.
Ian McShane stars in "Deadwood: The Movie"
Based on that "soft" cancellation, and the public statements of cast members claiming that they'd be willing to return to some sort of wrap-up project for "Deadwood," it didn't take long for rumours of a return to start flying. Reports in 2007 had Milch agreeing to produce a pair of telefilms to close out the show, but that project never moved forward in a serious way. The cast of the show dispersed, "Deadwood's" sets were eventually dismantled, and Milch pursued other projects. Every few years rumours of a return sparked again, but as time rolled on, the prospect seemed more and more unlikely.
Then, in 2016, HBO's programming boss indicated that the network had given Milch the go-ahead to write a new movie-length "Deadwood" script. Two years later came the final announcement that the movie was on, most of the cast were returning, and that filming would begin in October 2018.
And now it's complete. It will be fascinating to see what Milch, his co-creators, and the cast have come up with to complete the project they were forced to abandon 12 years ago. The film will take place 10 years after the Season 3 finale and is set shortly before South Dakota's 1889 achievement of statehood and the town of Deadwood's final transition from an illegal settlement formed of a frantic gold rush to a legal entity in the United States.
While the resuscitation of "Deadwood" has generated widespread excitement, it also comes alongside some unfortunate news. Earlier this spring, Milch announced that he'd been diagnosed with Alzheimer's disease, and now the "Deadwood" movie is riven with a sense of grief and a concern that it could be the TV veteran's swan song not merely by choice but by fate. Milch has said he intends to continue writing through his health difficulties, but he hasn't revealed any specific projects yet.
Regardless of what the future holds for the creator and cast of "Deadwood: The Movie," the film itself will go down as an unlikely bonanza for audiences who held the original series dear and lamented its abrupt termination in the olden days of 2006. Those audiences will be able to revisit their temporarily lost, impossibly resurrected favorite on Friday, May 31, when "Deadwood: The Movie" debuts on HBO.