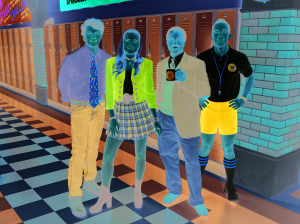 Brett Dier, AJ Michalka, Tim Meadows and Bryan Callen star in "Schooled"
While revisiting one's high school days may not be everyone's cup of tea, reliving the glory of days gone by can be lots of fun. Time travel may not be possible (yet!), but one TV show has been transporting viewers back to the grunge era, and people are beginning to take notice.
AJ Michalka ("The Goldbergs") stars as Lainey Lewis, a young woman who takes a job teaching music at her old high school when her dreams of rock 'n' roll stardom fall flat in "Schooled," airing Wednesday, April 24, on ABC. She initially takes the job just to pay the bills, but as she begins to make a difference in the lives of her students, she learns she has a knack for using music to connect with kids.
"Schooled" had been a long time coming. It premiered in January of this year, but it's actually been in the works since 2016. The show is a spinoff of another hit ABC comedy, "The Goldbergs," which tells the story of a family in the totally radical 1980s. Producer and playwright Adam Goldberg ("Breaking In") based that series on his own life, and "Schooled" is an extension of his world. A script was ordered in 2017, and a pilot was shot starring Nia Long ("Third Watch") in the lead role, but ABC passed on the show in May of that year.
However, in January 2018, the pilot aired as a special episode of "The Goldbergs" entitled "The Goldbergs: 1990-Something," and by April it was announced that ABC had picked up the show. Long would not return, however, as she had been cast in the CBS drama "NCIS: Los Angeles," and Michalka was selected to star, reprising the role of Lainey, which she originated in "The Goldbergs."
She isn't the only familiar face for fans of "The Goldbergs." Bryan Callen ("MADtv") reprises his role as no-nonsense Coach Rick Mellor in "Schooled." Callen's "Goldbergs" co-star, Tim Meadows ("Saturday Night Live"), appears as John Glascott, the one-time William Penn Academy guidance counselor who now serves as principal. Wendi McLendon-Covey ("Bridesmaids," 2011) has guest starred more than once in the series as big-haired overprotective mom Beverly Goldberg. Stephen Tobolowsky ("Heroes") has also appeared as former principal Earl Ball, while Ana Gasteyer ("Saturday Night Live") carries on as teacher Susan Cinoman.
The cast exclusive to "Schooled" includes Brett Dier ("Jane the Virgin") as hip young teacher Charlie "C.B." Brown, Lainey's teaching rival and sometimes friend. Rachel Crow ("Diedre & Laney Rob a Train," 2017) stars in a recurring role as Glascott's niece, Felicia, and Lennon Parham ("VEEP") recurs as teacher Liz Flemming.
What "The Goldbergs" does for '80s aficionados, "Schooled" does for those with a soft spot for the grunge era. For fans of all things '90s, it's a nostalgic romp through the decade full of fashions, music and other pop culture references. Nothing is sacred as the show pokes fun at trends such as Tamagotchis as well as movies such as "Romy & Michelle's High School Reunion" (1997), "She's All That" (1999) and even "Star Wars: The Phantom Menace" (1999).
AJ Michalka in a scene from "Schooled"
Yet, "Schooled" isn't just a schmaltzy, silly comedy; it's full of heartwarming poignant moments. The show has the potential to appeal to old school and new school TV viewers as it explores typical high school milestones that still happen today -- school dances, student council elections, concerts and more. The '90s may seem like ancient history to some people, but many of the show's themes resonate with people today, a fact that's reflected in the ratings. Close to five million viewers tuned in to check out the show's premiere, and that number jumps to 6.4 million when DVR viewers are added. "Schooled" has experienced a bit of a drop in the ratings since January, but the comedy has been consistently pulling in more than three million live viewers -- no small feat given its competitive Wednesday night time-slot against CBS's reality TV ratings juggernaut "Survivor: Edge of Extinction," Fox's star-studded "Empire" and NBC's popular medical drama "Chicago Med."
Much like "The Goldbergs," each episode of "Schooled" offers viewers a little bonus at the end. While "The Goldbergs" often wraps up with real-life video footage from creator Goldberg's childhood, "Schooled" features a short interview as the credits roll. The snippets usually bring together the real-life counterpart of a character and the actor who portrays them. There's even been a celebrity appearance -- NFL star Matt Ryan appeared at the end of the show's first episode alongside the real Coach Mellor. Both Goldberg and Ryan attended William Penn in real life, and the episode featured a storyline between Mellor and a young student named Matty (Hunter Doohan, "Soundwave," 2018). Other interviewees have included the real C.B., Liz Flemming and John Glascott.
Although some of the show's characters were inspired by actual people, not all of the storylines in the show are based on real life. Still, "Schooled" is worth the trip down memory lane. Check it out Wednesday, April 24, on ABC.