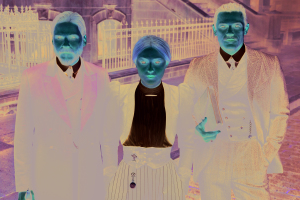 Daniel Brühl, Dakota Fanning and Luke Evans in "The Alienist"
Back on the case: It's been a long time coming, but Season 2 of "The Alienist" officially kicks off this Sunday, July 19, on TNT. That's one week sooner than the previously announced start date for this installment, which is officially titled "The Alienist: Angel of Darkness."
As an added gesture of goodwill to the series' very patient fans -- Season 2 was announced almost two years ago -- the cabler will double your dose of this period crime drama by airing back-to-back episodes every Sunday through Aug. 9. And that should fill the time-slots freshly vacated by "Snowpiercer" following its July 12 finale.
"The Alienist" was a huge success for TNT when it debuted back in 2018. It was the top-rated freshman cable series, but if audience numbers alone aren't enough to prove its worth, Season 1 also earned six Emmy and two Golden Globe Award nominations.
The first season centered on criminal psychologist Laszlo Kreizler, played by Daniel Brühl ("Inglourious Basterds," 2009), along with ambitious secretary Sara Howard (Dakota Fanning, "War of the Worlds," 2005) and newspaper illustrator John Moore (Luke Evans, "Dracula Untold," 2014) as they pursued a serial killer in turn-of-the-century New York.
In Season 2, Sara leads the charge as the head of her own detective agency. And this time, the kidnapping of the Spanish consular's infant daughter will lead our trio down a "sinister path of murder and deceit" (per TNT). Look for Douglas Smith ("Big Little Lies") and Matthew Shear ("The Boy Downstairs," 2017) to return as twin brothers Marcus and Lucius Isaacson, while Robert Ray Wisdom ("Supernatural") and Ted Levine ("Jurassic World: Fallen Kingdom," 2018) will reprise their roles as Cyrus and former NYPD commissioner Thomas Byrnes, respectively. Melanie Field ("You") and newcomer Rosy McEwen have also joined the cast for Season 2.
'Debris' a go: Craving a new alien drama? NBC has started handing out its pilot-to-series orders for the 2020-21 season, and the sci-fi drama "Debris" is the first lucky recipient.
"Debris" comes from "Almost Human" creator J.H. Wyman, and it's been described as being in the same vein as "The X-Files" and "Men In Black" (1997). It stars Jonathan Tucker ("Kingdom") and Riann Steele ("Ant-Man and the Wasp," 2018) as CIA and MI6 agents who must work together in their investigation of a crashed alien ship that is having a mysterious effect on humans.
The series order didn't come as a surprise to industry insiders, since "Debris" appeared to be a favorite of the network. It helps that "Debris" is one of the few NBC pilots that had nearly completed production, or rather was about 80% complete (according to Deadline), ahead of the network review. (Producers reportedly used additional visuals to fill in any production gaps.)
Still, there's never a guarantee with pilots. Adding to the tension is the fact that the series order was announced on the last day before the cast's options were set to expire.
NBC's pre-pandemic pilot roster used to be much larger, but understandably, most of those projects were derailed by the production shutdown in March. "Debris" is just one of two pilots that remained on track for a series pickup, with the other being the drama "La Brea," which was given a six-script order and will be considered later this year.
Cain's 'Weekend' gig: While no one wants to feel like they can be easily replaced, "Fox & Friends Weekend" may have taken that to the extreme.
The Fox News weekend morning show has featured a rotating substitute co-host ever since Tucker Carlson left for prime time back in 2016. But that's about to change: on Saturday, Aug. 15, ESPN radio host and commentator Will Cain is set to make his official debut as co-host alongside familiar faces Jedediah Bila and Pete Hegseth.
A licensed attorney who previously oversaw two media companies, Cain has been with ESPN since 2015, when he joined as a contributor to "Fantasy Football Now" and "Outside the Lines." More recently, he's been the host of the daily radio show "The Will Cain Show" and is a frequent guest panellist on "First Take." So he's no stranger to lively debate first thing in the morning, when some of us are still waiting for the coffee to kick in.
Prior to that, Cain worked as a political analyst over at CNN, where he served as co-host of "In the Arena with Eliot Spitzer" and, in 2012, "Starting Point" with Soledad O'Brien. He has also hosted a number of programs that aired on the Glenn Beck-founded media outlet The Blaze, including "Real News," "Cain and Cupp" and "The Cain Conversation." Cain also produced the 2014 miniseries "Alise vs. The Mayor" (not to be confused with the 2019 French film "Alice and the Mayor"), which examined the issue of charter schools in New York City.
While announcing Cain's new gig with Fox News, Gavin Hadden, vice-president of morning programming, alluded to the new co-host's varied resume and said, "Will has a unique ability to connect with an audience on a wide variety of topics and will make an excellent addition to the 'Fox & Friends' franchise."