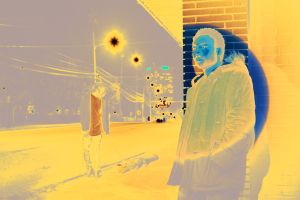 Donald Glover stars in "Atlanta"
Back to 'Atlanta': Job security is a pretty rare thing for actors, but FX recently announced that Donald Glover, arguably one of the busiest guys in showbiz today, and the rest of the "Atlanta" cast (and crew) have signed up for a fourth season.
Considering production hasn't even begun on Season 3, FX is clearly happy with the show if it's already asking for more. And it has good reason to want more, because TV viewers do, too.
The comedy series is a multiple award winner (five Emmys, two Golden Globes and two AFI Awards) and a critical darling. It's also been kind to cast members, who have been busy with other projects: Brian Tyree Henry is part of the all-star cast of Marvel's "The Eternals" (2020), which begins filming this month; LaKeith Stanfield stars in Rian Johnson's upcoming murder-mystery film "Knives Out," due out Nov. 27; Zazie Beetz stars in two films premiering this fall, "Seberg" and the highly anticipated "Joker" (starring Joaquin Phoenix); and Hiro Murai, who is seemingly Glover's go-to collaborator, has directed several other projects since Glover/Childish Gambino's "This Is America" music video, including a few episodes of HBO's "Barry" and Rihanna's "Guava Island" (available on Amazon Prime).
As for the series' multi-hyphenate creator, Glover has stated he intends to step back from music to focus on other things (presumably scriptwriting). He's been tied up the past year with projects, injuries and a few personal matters, including his father's death in December. Happily, he has recently enjoyed a string of successes, with big concert turnouts this summer and big box office numbers for the "Lion King" reboot (he is the voice of Simba).
Given that its stars are on different screens right now, "Atlanta's" delayed start is largely due to busy schedules. But production of Seasons 3 and 4 should begin next spring, with both seasons consisting of eight episodes. And back-to-back filming means the wait between seasons probably won't be nearly as long next year.
Très Trejo: Danny Trejo recently made headlines as the real-life hero who rescued a child from an overturned car -- a selfless act that makes him a paragon of goodness.
A few hours later, it was announced that Trejo had joined the cast of a new sci-fi series titled "Paragon."
As is the case for much of Trejo's TV and film work, his latest project isn't exactly a warm and fuzzy feel-good story. According to the Hollywood Reporter, the Justin Price-helmed series is about a world in which Heaven has been destroyed, leaving humans and Death to fight over what's left of the afterlife: the Elysian.
The seven-episode series is currently in production for (hopefully) a launch in 2020. It's being shopped around, and while no network or streaming service has signed on just yet, Price has described his project as "an edgier and grittier cable-style series in the vein of 'Firefly' and 'Altered Carbon'."
Otherwise, it's tough to pin down Trejo these days: one minute he's guest starring as a vampire in FX's "What We Do In the Shadows," and the next he's the voice of Boots the Monkey in the film "Dora and the Lost City of Gold" (2019). And that's par for the course for Trejo, whose acting career includes nearly 300 roles ranging from anti-hero to zombie slayer.
Off screen, he's been a force for good since the 1970s, when he turned the corner after prison stints and addiction and began working as a youth drug counselor. Trejo's latest act of kindness took place in early August, after he witnessed a traffic collision and rollover. Working with another Good Samaritan, he freed a young child and pulled him to safety while first responders assisted the driver and a passenger.
Trejo, who said he was just happy to help, told the media: "Everything good that has happened to me has happened as a direct result of helping someone else. Everything." And this seemed especially true later that day: Trejo reportedly won $700 playing the lottery.
New Garfield: Garfield, the spirit animal and poster cat of all who hate Mondays, has a new owner.
Don't worry, nothing happened to Jon -- he's still the long-suffering pet owner who has to put up with the lazy, lasagna-eating feline.
It's the comic strip "Garfield," or rather the entity that owns the property rights to it, that has a new owner: Viacom. Although the financial details were said to be a work in progress at the time, the agreement to acquire Paws, Inc., was reached before the recent megadeal to merge Viacom and CBS by the end of the year.
So why does "Garfield" fall under TV news? ViacomCBS owns Nickelodeon, which has been busy padding its library of classic cartoons and acquiring TV rights to well-known properties -- especially those that lend themselves well to merchandising and/or a TV rebirth.
In February, the home of "SpongeBob SquarePants" and "Dora the Explorer" announced it was developing two new TV series, "Paddington" and "LEGO City," both based on successful CGI-animated movies. And as part of CBS's efforts to expand the "Star Trek" franchise, Nickelodeon is also developing a more teen-centric animated "Star Trek" series.
Now, "Garfield" is getting the reboot treatment. While creator Jim Davis will continue to oversee the beloved comic strip he introduced in 1976 (it went into syndication in 1978), Nickelodeon is eager to develop a new animated "Garfield" TV series and capitalize on new merchandising opportunities.
No word yet on whether the new "Garfield" (title TBD) will be in the classic animation style of CBS's "Garfield and Friends" (1988 to 1994) or the CGI-animated style of Cartoon Network's "The Garfield Show" (2009 to 2012).