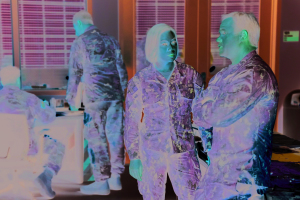 Toni Trucks and Judd Lormand as seen in "SEAL Team"
Still spinning from the loss of one of their own, television's favorite SEALs are jumping into their next mission when "SEAL Team" returns for an epic Season 5 on Sunday, Oct. 10, on CBS before moving exclusively to Paramount .
"SEAL Team," created by Benjamin Cavell ("The Stand") and produced by CBS Studios, is a TV military drama series that premiered on Sept. 27, 2017. It follows an elite unit of United States Navy SEALs led by David Boreanaz ("Angel") as Master Chief Special Warfare Operator Jason Hayes. Hayes' Bravo team also includes Clay Spenser (Max Thieriot, "Point Break," 2015), a second-generation Navy SEAL in training, and Amanda "Mandy" Ellis (Jessica Paré, "Atypical"), Bravo's CIA liaison.
Also returning for Season 5 is Chief Warrant Officer 2 Raymond "Ray" Perry (Neil Brown Jr., "Bayou Sales," 2019), the longest-tenured SEAL and best friend to the team captain, and Special Warfare Operator First Class Sonny Quinn (A. J. Buckley, "Pure"), a loyal but unpredictable SEAL who would just about always choose a firefight over a leadership position.
And viewers can't forget about Lieutenant Junior Grade Lisa Davis (Toni Trucks, "Corporate"), the DEVGRU Intelligence Officer assigned to Bravo.
In the season's opening episode, the team is stunned to discover that the "training" it's currently undergoing is actually a front for an ongoing underground mission that seeks to extract a weapons expert from one of the deadliest corners of the globe.
Though not exactly thrilling news to the team, especially after a particularly difficult fourth season, the SEALs are up for whatever mission the United States of America asks.
The Season 4 finale was catastrophic, to say the least, leaving its audience and characters in a rather precarious situation. The Bravo team lost its comrade Scott Carter, aka Full Metal (Scott Foxx, "Only the Brave," 2017), to injuries after he shielded his team from a shoulder-fired missile. And as if that loss weren't enough to grapple with, a slew of personal problems surfaced for various members of the SEAL team.
Jason finally convinced Ray to get therapy, and after months of fighting, Ray unloaded all of his trauma on his wife, Naima (Parisa Fakhri, "Castle"). Their relationship had become a dark cloud looming over the reunion between Clay and Stella (Alona Tal, "Burn Notice"), with Clay seeing Ray and Naima's story as a kind of sinister foreshadowing for their own future.
Still, the show knows that for every great tragedy, there needs to be some levity, so why not a wedding? Clay popped the question to Stella and they ended up getting married at city hall.
Sonny and Lisa also had their own decisions to make about the future — both together and apart — at the end of Season 4, as Sonny searched for ways to stay closer to his newborn baby girl. And Jason's alleged "headache" at Clay and Stella's wedding reception raises some red flags for PTSD in a residual reaction to last season's events.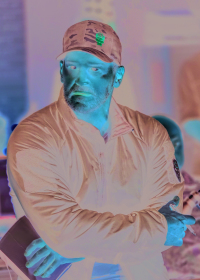 David Boreanaz in "SEAL Team"
The characters' problems and the danger they face seem all too real on occasion, and for good reason. Though the show is not based on a true story, it is inspired by Navy veteran SEALs and common issues veterans face on missions and when they return home. This, in part, is the reason COVID-19 will be taking a back seat to the story writers wish to tell.
Like most other shows in the past couple of years, "SEAL Team" had to suspend production in early 2020 to deal with COVID-19, putting at least two of its Season 3 episodes on the backburner. And while they've been back filming, everyone involved is now required to follow a list of safety protocols, including mandatory quarantining and regular testing. While writers have played with the idea of incorporating the pandemic into the storyline, "SEAL Team" is one show that won't acknowledge it in its plot.
Just about the only role the coronavirus will play in the military drama will be to impact the number of guest actors on the show, due to quarantine and travel requirements. In fact, showrunner Spencer Hudnut ("Unforgettable") has vowed to exclude it 100% from the show, saying he believes that viewers need "an escape" (nearly all TV series have included it, from "Grey's Anatomy" to "NCIS").
Hudnut believes "SEAL Team" is already, as it is, all about people risking their lives on the front lines, continuing, "We talked about it, and because we have to finish what we started, to all of [a] sudden be in a pandemic world felt wrong."
Critically speaking, "SEAL Team" has been well received, and CBS announced the show's renewal back in May 2021. The season premiere is one of four episodes to be shown on the network, this time on Sundays right after "The Equalizer" and "NCIS: LA." That said, fans should expect this time-slot to move around a bit due to Sunday Night Football.
Also, as of the fourth episode, "SEAL Team" will be moving exclusively to Paramount , where it will still air weekly as it once did on CBS.
Don't forget to mark this next mission on your calendar! "SEAL Team" premieres Sunday, Oct. 10, on CBS before moving to Paramount .