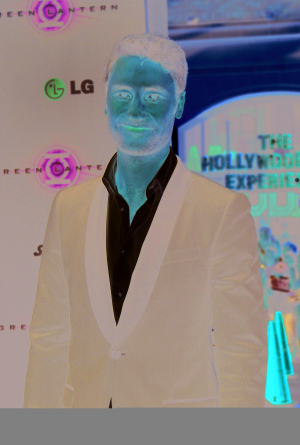 Taika Waititi is set to helm new pirate comedy
Avast ye: He's poked fun at vampires ("What We Do in the Shadows," 2014), Valhalla ("Thor: Ragnarok," 2017) and even lampooned history's most recognizable villains ("Jojo Rabbit," 2019). So, what will New Zealand writer-director-producer Taika Waititi target next? Pirates!
HBO Max recently handed a straight-to-series order to "Our Flag Means Death," and the move isn't surprising given Waititi's attachment to the project as an executive producer. He'll also direct its pilot episode, as he did with FX's "What We Do in the Shadows" when the TV adaptation premiered last year.
The period comedy hails from writer/showrunner David Jenkins, who previously created the TBS comedy, "People of Earth." It is said to be loosely based on the real-life (mis)adventures of Stede Bonnet (1688-1718), a wealthy landowner who abandoned his life of privilege and became known as "The Gentleman Pirate."
Mining Bonnet's story for humor shouldn't be hard — even Smithsonian Magazine described his sudden career change as "the worst midlife crisis on record." Bonnet had no prior seafaring experience, and the fact that he purchased his pirate ship instead of seizing it didn't exactly earn him the respect of his crew, who were also paid a steady wage instead of their usual share of the plunder.
No word yet on how many episodes of "Our Flag Means Death" will air on HBO Max, but don't expect to see it anytime soon; Waititi has to complete work on "Thor: Love and Thunder" first. The fourth film in Marvel's Thor saga is in currently in pre-production with a 2022 release date, and Waititi is pulling double duty as the film's director and writer. Keep in mind that he's also working with Netflix on two animated series based on Roald Dahl's "Charlie and the Chocolate Factory" and there's the Showtime horror-comedy "The Auteur" too, starring Jude Law ("The Young Pope").
Ty Back: Reality TV fans know Ty Pennington as the charismatic carpenter on TLC's "Trading Spaces" and as the energetic host of ABC's "Extreme Makeover: Home Edition" from 2003 to 2012. But apart from a few projects — like the short-lived ABC series "The Revolution" and some hosting gigs on TNT and Food Network — Pennington has kept a relatively low profile in the last few years. Family time and volunteer work have kept him busy, but when he popped up on TLC's revival of "Trading Spaces," it was clear that fans were happy to see him again.
And it appears his guest appearance on HGTV's "Extreme Makeover: Home Edition" earlier this year has led to another new TV project: "Ty Breaker," coming to HGTV in early 2021.
"Ty Breaker" is an eight-episode series that will show Pennington doing what he does best: helping homeowners. But the series title isn't just a play on the host's name, there's a bit of a competition element to all of this.
In each episode, a family will have to decide whether they should overhaul their current property or renovate a new one to better meet their needs. On one side, you have interior designers Alison Victoria of "Windy City Rehab" and "Kitchen Crashers" fame, Grace Mitchell from "One of a Kind" and Sabrina Soto from "The High Low Project." The trio will come up with killer designs to entice the families to choose a different home, while Pennington (on the other side) will offer up his renovation ideas in an effort to convince them to stay put. Although it's easy to dismiss all this talk of competition because the family wins either way, whether they move or stay put, they'll end up with a newly designed space that better meets their needs.
HBO's 'Thirst': If you've ever watched "Empire" and thought to yourself "this series is great but it could really use more vampires," well, surprisingly, you're about to get your wish.
Granted, that scenario is a bit of a stretch. But at HBO, two former "Empire" writers — husband-and-wife duo Leah Benavides Rodriguez and Carlito Rodriguez — are developing a new hip-hop drama with a supernatural twist.
"Thirst" is based on an original concept by former VH1 creative director Kevin Jordan, who landed his own first-look deal with MACRO Television Studios earlier this year (MACRO is the studio behind "Thirst"). It's the story of an Atlanta rapper who thinks he's on the fast track to stardom after linking with The Lost Boys, one of hip hop's biggest acts. So what's the problem? You guessed it: The Lost Boys are secretly vampires and they've been around for centuries.
Don't dismiss this one as just a mix of music and vampire mythology, because "Thirst" is more of an exploration of the price of fame, and it will make you think about who you'd become if you could live forever.
Jordan will serve as executive producer alongside Ben Watkins, Malcolm Spellman and Nichelle Tramble Spellman (another husband-and-wife team), and Benavides Rodriguez and Rodriguez, who issued this joint statement: "Music has been integral to both our lives, and 'Thirst' is the perfect opportunity to blend genres while exploring the intersection of fame, culture and what it means to be American. We're excited to bring it to life with MACRO Television Studios and the rest of our dope team and thrilled it has found its home at HBO."