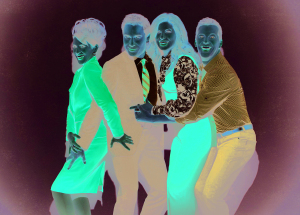 Megan Mullally, Eric McCormack, Debra Messing and Sean Hayes star in "Will & Grace"
The time has come to say goodbye. Again. The hit reboot of NBC's comedy series "Will & Grace" comes to an end on Thursday, April 23, on the peacock network.
In case you've been living under a rock for the past 22 years, here's the premise: Grace Adler (Debra Messing, "The Wedding Date," 2005), an interior designer, lives with her gay ex-boyfriend, Will Truman (Eric McCormack, "Travelers"). She is aided by her wealthy, yet completely useless, secretary, Karen Walker (Megan Mullally, "Bob's Burgers"). And they are all best friends with the fun and flamboyant Jack McFarland (Sean Hayes, "The Cat in the Hat," 2003). The series is rife with hilarious hijinx, emotional drama and a whole lot of love.
Its original run was groundbreaking and represented gay characters in a way few shows had before. The reboot has been a fun blast from the past but also a breath of fresh air. Its many fans are balancing feelings of gratitude that it happened and sadness that they have to say goodbye to their favorite characters a second time.
To make the series finale even more exciting (like we weren't going to cry enough already), McCormack hosts a retrospective special in the time-slot right before the finale. In preparation for the big episode, McCormack goes over some all-time favorite moments from the entire series -- the original and the reboot. He plays clips and talks about the scenes that had us laughing and crying the most. He also reviews the show's impressive list of guest stars along with scenes that have made television history.
This moving recap includes guest appearances by legendary rock star Elton John as well as the famed creator of TV classics such as "All in the Family" and "Good Times," Norman Lear. You'll also see loving tributes to the show from hard-core fans and celebrity followers who are crushed to say goodbye to their favorite foursome.
While we will certainly miss their goofy antics and hilariously biting one-liners (we're looking at you, Karen), we can take some consolation in the knowledge that the show has received the praise and acclaim it deserves. The series, which was written and produced by Max Mutchnick and David Kohan, has claimed a plethora of awards and nominations in its 11 seasons. It's a really good sign that a series is a slam dunk when every actor in its main cast wins an Emmy within the first five seasons -- McCormack, Messing, Mullally and Hayes achieved that feat together. "Will & Grace" aired 246 episodes, won seven SAG Awards, and 18 Emmys. What more can you ask of any series, really?
James Burrows, who was originally snagged by NBC to sit at the helm of "Will & Grace," has been the show's director for all 11 seasons. The original show ended after Season 8, and that finale received mixed reviews from fans.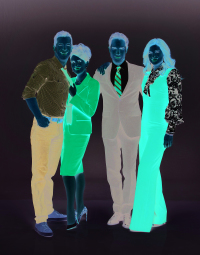 Sean Hayes, Megan Mullally, Eric McCormack and Debra Messing from "Will & Grace"
Ten years later, NBC wanted to give them an encore. As a response to the heat and tension of the 2016 presidential election, the station brought the four main cast members together for a reunion episode. It was an effort to cut the tension for the entire nation with a little comic relief, but the response was more than anyone could imagine a fun, one-off special could generate. As views skyrocketed, network execs conferred with the cast and decided to bring back "Will & Grace" for an additional 10 episodes -- and, as you know, that brief stint turned into a four-year dream come true for fans.
So far, this final season has been a big one for the beloved characters. Grace is pregnant and unsure of who the father is. Will has caught the baby bug, too, and has gone in search of the perfect woman to be a surrogate for his child. While Will's heart is set on having kids, his boyfriend, McCoy (Matt Bomer, "White Collar"), does not feel the same way. But Will is intent on walking the path to parenthood, even if that means doing so alone.
But can he ever really be alone with Jack, Karen and Grace by his side? It's true that this season has kicked up the physical comedy quite a bit, including fewer emotional moments than seasons past. But fans are especially impressed by Will and Jack's growing friendship, and their character growth together might be our favorite aspect of the continued seasons.
The series finale promises some interesting twists, including Jack possibly living out his greatest dream of appearing on Broadway. Karen seeks closure with her ex-husband, Stan (who is never actually seen on the show). And, as both Will and Grace are preparing for their respective babies, they face everything from false labor to heartache. This is sure to be an emotional farewell for them and their loyal fan following.
But don't say "Goodnight, Gracie" just yet! Tune in one last time for the retrospective event with McCormack and then for the "Will & Grace" series finale on Thursday, April 23, on NBC.