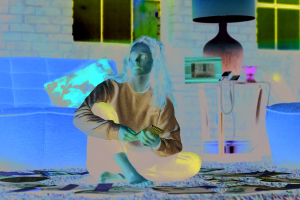 Rebecca Breeds stars in "Clarice"
In a sea of reboots, reimaginings and spinoffs, it can be hard to sort out what's worth watching. However, some stories are worth revisiting, and a new thriller takes a deep dive into one of the most memorable big-screen characters of the past 20 years.
Rebecca Breeds ("The Originals") stars as FBI agent Clarice Starling in "Clarice," premiering Thursday, Feb. 11, on CBS. Centered on the heroine from the acclaimed 1991 film "The Silence of the Lambs," which itself was based on the 1988 Thomas Harris novel of the same name, the new series follows the FBI agent as she pursues deranged criminals.
The show was created by writing partners Alex Kurtzman ("Star Trek: Discovery") and Jenny Lumet ("Rachel Getting Married," 2008).
"After more than 20 years of silence, we're privileged to give voice to one of America's most enduring heroes – Clarice Starling," Kurtzman and Lumet said in a joint statement announcing "Clarice" in January 2020. "Clarice's bravery and complexity have always lit the way, even as her personal story remained in the dark. But hers is the very story we need today: her struggle, her resilience, her victory. Her time is now, and always."
Their premise must have intrigued the folks at CBS because the pilot was ordered in February of that year and a month later "Clarice" was fast-tracked to a series, only to be put on hold due to the industry-wide COVID-19 shutdown. By May the series had been picked up and its upcoming premiere was announced in December.
However, getting the series to prime time was not easy. Producers had to navigate complicated rights issues because the rights to the characters from the Harris novels are split between two companies, MGM and The Dino de Laurentiis Company. In a December 2020 interview with Entertainment Weekly, Kurtzman explained that they cannot mention iconic villain Hannibal Lector, played by Oscar winner Anthony Hopkins ("The Remains of the Day," 1993) in the film version and Mads Mikkelsen ("The Hunt," 2012) in NBC's drama "Hannibal."
"But it's been quite liberating because we have no interest in writing about Hannibal — not because we didn't love the films and the show, but because it was done so well by so many people that it didn't feel fresh for us," Kurtzman said.
In many ways, it would make sense that Starling would not want to relive her experiences with the brilliant, but deranged, serial killer known as Hannibal the Cannibal. While Lecter is essentially "He Who Must Not Be Named" in "Clarice," the new CBS psychological thriller has plenty of other fascinating characters for the talented cast to explore.
Breeds, who is known in her native Australia for her work in the popular soap opera "Home and Away," snagged the high-profile role as Starling in February. The actress is, of course, following in some pretty big footsteps. Jodie Foster won an Oscar for her portrayal of Starling in "The Silence of the Lambs," which, incidentally, swept the major categories of the Academy Awards that year. After Foster passed on reprising the role in the 2001 film "Hannibal," another Oscar winner, Julianne Moore ("Still Alice," 2014), was cast. North American viewers may recognize Breeds from her roles as Aurora de Martel in CW's "The Originals" and Nicole in the popular drama "Pretty Little Liars."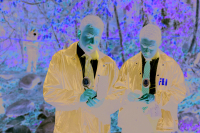 Kal Penn and Lucca De Oliveira as seen in "Clarice"
Devyn A. Tyler ("Out of Blue," 2018) portrays Ardelia Mapp, Clarice's best friend and former roommate at the FBI Academy who now works as an assistant U.S. attorney at the Department of Justice. Tyler's other credits include TV series "The Purge" and the miniseries "Watchmen."
Lucca De Oliveira ("The Punisher") plays Starling's colleague, Thomas Esquivel, who is initially suspicious of Starling's background at the bureau. TV fans may recognize De Oliveira from another CBS show, "SEAL Team," in which he played Vic Lopez.
Former White House staffer Kal Penn has been cast as Emin Grigoryan, an FBI agent with a PhD in library science and former curator for the Smithsonian. In addition to his role as Kumar Patel in the Harold & Kumar film franchise, Penn is also known for the film "The Namesake" (2006) and the TV shows "House" and "Designated Survivor."
Nick Sandow stars as fellow field agent Murray Clarke, who may be out of shape but is a huge asset in the field thanks to his ability to spot a lie. While the actor's most notable role to date has been that of Joe Caputo in "Orange Is the New Black," he's also appeared in "Law & Order," "NYPD Blue" and "Blue Bloods."
Michael Cudlitz returns to prime time as Paul Krendler, leader of the VICAP Fly Team and a gifted investigator. Of course, fans of "The Walking Dead" will remember Cudlitz as Abraham, though the actor's other credits include the HBO miniseries "Band of Brothers" and the drama series "Southland."
Marnee Carpenter has been cast as Catherine Martin, whom Starling saved from the clutches of serial killer Buffalo Bill. Carpenter is known for her work in "Good Girls" and the 2020 short film "Urges."
Other recurring or guest cast members in "Clarice" include a trio of "24" alums: Jayne Atkinson as Ruth Martin, Catherine's mother and newly appointed attorney general; Shawn Doyle as Starling's therapist; and Tim Guinee as Novak, leader of a militia group.
When the series opens, Starling returns to her old stomping grounds as a case brings the eager FBI agent to her native West Virginia. Don't miss the premiere of "Clarice," airing Thursday, Feb. 11, on CBS.