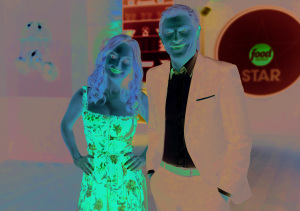 "Food Network Star" hosts Giada De Laurentiis and Bobby Flay
A lot of people can cook well, but few have what it takes to effortlessly host a TV show. But to be a skilled chef who has the drive, camera presence and charisma to pull off a Food Network series? Well, that kind of combination only belongs to a real Food Network star.
The 14th season of "Food Network Star" premieres on -- you guessed it, Food Network -- on Sunday, June 10. Food Network royalty Bobby Flay ("Beat Bobby Flay") and Giada De Laurentiis ("Giada at Home") are back for the nine-episode season in which 10 culinary hopefuls take a shot at Food Network stardom and try to earn their own TV series.
It isn't such a far-fetched dream to have. Guy Fieri, one of the most prolific Food Network personalities, won the second season of the competition, and season 7 winner Jeff Mauro currently co-hosts "The Kitchen" on Saturday mornings. Other winners have gone on to host various series and specials, and many of them continue to appear in a variety of Food Network shows.
In this week's premiere, the contestants meet up with Bobby and Giada at Universal Orlando Resort's Volcano Bay, where they're tasked with transforming their signature dishes into portable treats to serve up to the park's hungry guests. Giada and Bobby aren't just looking for great food and culinary instincts, though that's obviously quite important. After all, this isn't just a cooking competition: it's also a job interview. With camera crews everywhere, the TV neophytes are definitely out of their element; some take to being on camera like it's second nature, while others struggle under the spotlight.
That's really what makes "Food Network Star" different from the other competitions on Food Network. The cooking itself is important, but there are so many other skills that Bobby and Giada are additionally looking for. As the hopefuls get eliminated episode by episode, the stakes only get higher for those that remain -- and with a Food Network show up for grabs as the ultimate prize for the winner, those stakes are very high, indeed.
The latest season of "Food Network Star" premieres Sunday, June 10, on Food Network.