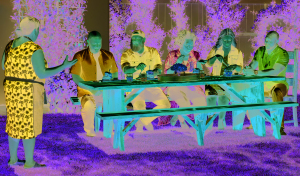 Lee Anne Wong with Mark Anderson, Ryan Fey, Jamika Pessoa, Damaris Phillips and Eddie Jackson in "Ultimate Summer Cook-Off"
Summer: it's the season of long days, starry nights and fun-filled vacations. It's also a time of year that Food Network has embraced wholeheartedly, with a new show, special or series seeming to come along almost every week during this sweltering season.
This week, the channel launches a new, four-episode series that pits chefs against one another in culinary competition. "Ultimate Summer Cook-Off" premieres Sunday, Aug. 5, with a $25,000 grand prize on the line and former "Food Network Star" winner and "Kids BBQ Championship" co-host Eddie Jackson hosting. "Southern and Hungry" co-host Damaris Phillips and celebrity chef Jamika Pessoa serve as the competition's judges, along with a rotating group of guest judges that includes "Comfort Food Tour" hosts Mark Anderson and Ryan Fey.
The competitors all have some sort of summery connection, with one owning a restaurant that sits on a beach and another hailing from Hawaii, the land of eternal summer. There are no amateurs here, either -- these are all seasoned pros who have built their careers on meals that help people beat the heat, and each and every one of them has eyes only for that prize money.
The chefs tackle their first challenge in this week's premiere, and it's all about burgers. Similar to "Chopped" fashion, in each episode's first challenge, the chefs crack open a container -- in this case, a cooler -- filled with mystery ingredients to use in the dish. Unlike in "Chopped," though, the coolers don't all contain the same items; every chef gets a different set of basic foodstuffs to use, and there's no way of knowing what the coolers contain until after they've been picked.
The winner of the first round gets an advantage for the second challenge: a special cooler packed full of luxury summer ingredients, to which the other chefs don't get access. With $25,000 up for grabs, that's the kind of leg up that can make or break a chef's summertime dreams in "Ultimate Summer Cook-Off." The four-episode series premieres Sunday, Aug. 5, on Food Network.