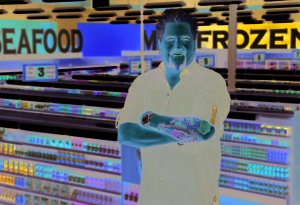 Guy Fieri as seen in "Guy's Grocery Games"
No surprise here: our society is one that loves to eat meat. Flavorful chicken, rich beef, fall-off-the-bone pork and the ocean's delicious bounty are foods that have places of honor on our tables, but we all know that most of us should eat a little less meat -- it's good for the environment and it's good for our bodies, too.
Well, the latest episode of "Guy's Grocery Games" is going meatless. Contestants cook through three vegetable-inspired rounds as they try to beat out the competition and prove that greens and beans can be just as delicious as their meatier counterparts in a new episode airing Wednesday, Dec. 26, on Food Network.
In the first round of the competition, host Guy Fieri gives the competing chefs a list of ingredients that their dishes must feature. Then, in the second round, the chefs spin a wheel that randomly gives each of them a meat dish that they must make vegetarian. Finally, Guy gets tricky in the final round and takes away the remaining competitors' shopping carts before sending them out to shop for the ingredients needed to make their guilty pleasure dishes.
"Guy's Grocery Games" is similar to other cooking competition shows, with a chef getting the ax after each round once the judges have had a chance to taste and evaluate all of the dishes. The contest is held inside of a supermarket, and the competitors are required to "shop" for their own ingredients from the store's shelves, and all sorts of twists tie into the unique milieu.
The judges that Guy has brought in to taste this week's meatless meals are a who's who of Food Network celebrity chefs. There's a pair of "Food Network Star" winners in Damaris Phillip ("Southern at Heart") and Aarti Sequeira ("Aarti Party"), along with frequent judge and "Top Chef: All-Stars" winner Richard Blais.
Veggies don't have to be boring, and with those three discerning judges ready to taste everything on the plate, the contestants in this week's "Guy's Grocery Games" have to pack as much punch into their dishes as they can. Catch the meatless episode when it airs Wednesday, Dec. 26, on Food Network.