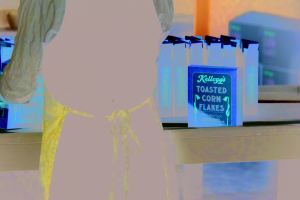 A scene from "The Food That Built America"
History Channel is poised to serve up a new season of "The Food That Built America" this month, but if the first installment made you hungry for more and you just can't wait any longer, you're in luck: you can catch a sneak preview of Season 2 this Tuesday, Feb. 9, before it settles into its Sunday time-slot on Feb. 14.
When it premiered in August 2019 as a three-part, six-hour limited series, "The Food That Built America" managed to pull off an impressive feat: it drew in a total of 18.8 million viewers. Those numbers practically guaranteed a second helping, which was confirmed last May and is now ready to be dished out.
"The Food That Built America" brings viewers the true stories of the titans who shaped and reshaped the modern food industry, along with the backstories of some of the most popular brands in America.
There's no question that real-life stories of these trials and tribulations, the inspiration and grit (and, yes, a few underhanded business tactics) make for compelling storytelling. This series tries hard to find the perfect balance between informative and entertaining, while leaning into our sense of nostalgia for the foods we grew up with.
The first installment brought audiences the stories of confectionery czar Milton S. Hershey; cereal titans John and Will Kellogg (and their bitter rival, C.W. Post); condiment king Henry J. Heinz; fast-food pioneers Richard and Maurice McDonald and more.
As for Season 2, it will consist of 15 episodes that will lift the veil on the origins of brands such as Oreos, Frito Lay, Reese's, Pizza Hut and more. In fact, Tuesday's episode zooms in on the beginnings of the rivalry (dubbed the "pizza wars") between Pizza Hut and Domino's.
Episodes include expert commentary from celebrity chefs and entrepreneurs such as Marcus Samuelsson and RZA, while TV personality and food author Adam Richman has been upped to series host.
It's worth noting that Richman also hosts a revival of the long-running series, "Modern Marvels," which will debut a new season on History Channel on Sunday, Feb. 21. In each episode, Richman travels the country to visit factories and mom-and-pop shops and gets a behind-the-scenes look at how our favorite foods are made.
"Modern Marvels" is a good fit for both History Channel and the former "Man v. Food" star. It also pairs well with "The Food That Built America" because, ultimately, these two shows are a celebration of American ingenuity — not to mention the foods we crave the most.
Don't miss the second course of "The Food That Built America" when History Channel serves it up, beginning Sunday, Feb. 14.