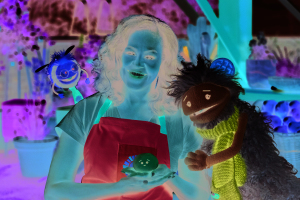 Michelle Obama in "Waffles Mochi"
Get ready for a new kind of family-friendly food show that seemingly has it all: good food, a puppet, a global adventure, another puppet, famous chefs, celebrities, more puppets and even a former first lady.
Premiering Tuesday, March 16, "Waffles Mochi" is the latest addition to Netflix's growing roster of food-themed programming. At first glance, you might dismiss it as simply a children's show, but its true purpose is to encourage healthy eating among kids and grown-ups, all while connecting them with the great food cultures of the world.
The two main characters are Waffles and Mochi, two best friends who live in The Land of Frozen Food and dream of becoming chefs. Everything changes after they land jobs at a whimsical supermarket, and suddenly the two pals are blasting off on a global mission to discover new ingredients and recipes with the help of a magical flying shopping cart and some famous friends.
The owner of the "whimsical supermarket" turns out to be former first lady Michelle Obama, who supports Waffles and Mochi as they embark on a quest that sends them to farms, homes, kitchens and restaurants around the world. In addition to riding gondolas in Italy and llamas in Peru, the food-curious explorers will have to round up ingredients and cook with famous chefs and faces, home cooks and children.
Through the 10 episodes, Waffles and Mochi will meet celebrities such as Jack Black ("School of Rock," 2003), Rashida Jones ("Parks and Recreation"), Zach Galifianakis ("The Hangover," 2009), Mandy Moore ("This Is Us"), Gaten Matarazzo ("Stranger Things"), rapper/actor Common, singer Sia and fashion designer Tan France.
But this is an instructional food show — and a slick, Netflix-produced one at that — so expect some all-ages cooking segments featuring fellow Netflix star Samin Nosrat, of "Salt Fat Acid Heat" fame; the founder of World Central Kitchen, chef José Andrés; the master of Italian gastronomy, Massimo Bottura, and many more.
"Waffles Mochi" is the latest series to come out of the Obamas' multi-year deal with Netflix through their production company, Higher Ground Productions. The former first lady's direct involvement shouldn't come as a surprise, given Obama's focus on nutrition and the launch of the Let's Move! initiative during her husband's presidency. It's also worth noting that the series is working with Partnership for a Healthier America (Obama serves as its honorary chair) to deliver fresh ingredients to families in need during the pandemic.
A Netflix exclusive, "Waffles Mochi" is available for streaming beginning March 16.