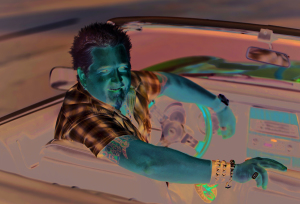 "Guy's Ranch Feast" host Guy Fieri as seen in "Diners, Drive-Ins and Dives"
There are basically two types of shows on Food Network. There's the more informative and laid-back type that features chefs doing what they do best, such as "Giada on the Beach," or the type that shines a spotlight on businesses dishing out amazing food, such as "Vegas Cakes." Then, there are the cooking competitions that put professionals (or even non-professionals, in the case of "Worst Cooks in America") in high-stakes situations, such as "Iron Chef America" or "Chopped."
Host Guy Fieri definitely has a foot in both worlds, with "Diners, Drive-Ins and Dives" sitting firmly in the first group and "Guy's Grocery Games" in the second. Heck, he got his start on Food Network when he won the second season of "Food Network Star," a series that itself blurs the line between the two genres of cooking shows.
Guy's latest offering, "Guy's Ranch Feast," falls firmly into the first category. The TV special, which premieres with back-to-back episodes on Sunday, June 17, is a spinoff of "Guy's Ranch Kitchen" and features Guy's most talented chef friends spending a day at his beautiful California ranch home.
Of course, when you get a bunch of chefs together, you just know that some amazing food is going to be made. An Italian feast is what's on order on the first menu, and Guy's guests are happy to oblige. While chef Rocco DiSpirito ("Now Eat This! With Rocco DiSpirito") is busy making frito misto di mare with saffron aioli, Iron Chef Alex Guarnaschelli prepares some charred peppers with balsamic and garlic bread, along with a crowd-pleasing baked herb ziti pasta.
Meanwhile, regular "Chopped" judge chef Marc Murphy prepares a vibrant tomato salad with anchovy vinaigrette and some incredible braised artichokes with radicchio, while his frequent "Chopped" sidekick, chef Scott Conant, brings some Tuscany to the ranch with his roasted potatoes with herbs and garlic, and a fig cake with sweet ricotta cheese.
That's a sizable feast, but that's exactly what Fieri gets when he invites his chef friends to his ranch. These chefs just can't resist cooking when they're together. "Guy's Ranch Feast" airs Sunday, June 17, on Food Network.