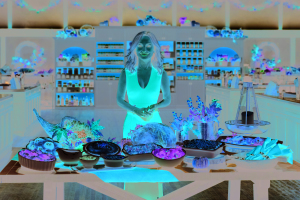 Giada de Laurentiis hosts "Ultimate Thanksgiving Challenge"
Halloween is in the rear view mirror, and that means we can focus on what is, for many families, the biggest feast of the year: Thanksgiving.
We're four weeks away from the big day (and, for once, I'm not talking about Black Friday). That gives Food Network just enough time to air the full slate of a seasonal competition series that seems poised to become an annual tradition on the cable network.
A second "Ultimate Thanksgiving Challenge" gets underway on Sunday, Nov. 3, with all-new competitors and challenges. Giada de Laurentiis returns as the celebrity chef host, and she will put these Turkey Day pros to the test. Judges Alex Guarnaschelli, Carla Hall and Christian Petroni will decide who stays and who is out of the competition.
There are four episodes in all, and the action ramps up when the chefs are tasked with transforming an inexpensive grocery item into a top-notch appetizer. The winner will have an advantage for the next round, wherein the competitors must incorporate an inexpensive turkey item into their turkey dinner. And that's when the judges will eliminate one of the competitors -- the rest will continue on and hopefully make it to the Nov. 24 episode, when the ultimate winner will be awarded the $25,000 grand prize.
I know what you're thinking. Six competitors, two challenges and one elimination per episode, four episodes in all -- that's the Food Network formula for seasonal TV success.
There's definitely a tried-and-true approach at play here. But it works: when it premiered last year, the ratings for the first episode propelled it into the top 10 for Sunday cable ratings.
When you have a winning format, the focus shifts to keeping it fresh with creative themes and challenges, like international flavors in the Nov. 10 episode. Part of the credit also goes to the host, who knows how to keeps things upbeat and moving along, while the contestants' backstories, flavor preferences and antics give us reason to root for them all the way to the end.
And then there are the judges. Guarnaschelli and Hall are two veterans of high-stakes competition series -- the former is an Iron Chef, while the latter got her big break on "Top Chef" -- and both have plenty of TV credits between them. Their dynamic, along with "Food Network Star" winner Petroni, made the show immensely watchable last year. And the good news is that all of those elements are in place for the second edition of "Ultimate Thanksgiving Challenge," which starts this Sunday.