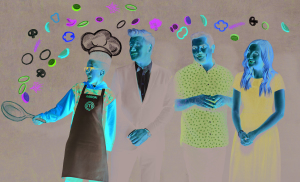 Contestant Aaron with Gordon Ramsay, Aarón Sánchez and Christina Tosi in "MasterChef Junior"
Preheat the ovens, work out the palates and sharpen those knives: globally renowned chef Gordon Ramsay is back for another season of his hit cooking competition. Nope, not the one where he yells and swears at the contestants, and not the OTHER one where he yells and swears (albeit a little bit less). We're talking about the one where he's actually -- dare I say it -- nice.
"MasterChef Junior" returns to Fox for a seventh season on Tuesday, March 5, with the celebrated culinary artist at the helm. The premiere brings together 24 of the nation's most talented home cooks between the ages of 8 and 13 for a cooking competition like no other, filled with challenges that would make even professional adult chefs sweat.
Chef Aarón Sánchez, who serves as one of the main judges in the adult "MasterChef," joins Ramsay and chef Christina Tosi as a judge this season, after previously appearing as a guest judge a few times back in season 5. Together, the three of them not only sample the dishes that the pint-sized contestants prepare and decide which one gets eliminated, but also mentor the kids and help them reach new heights in the kitchen.
These kids aren't exactly novices in the kitchen -- in fact, they're anything but. Their palates, knife skills and knowledge of ingredients are on a level that puts most adults to shame, and the dishes that they put out week after week are often good enough to appear on a fine dining menu.
Of course, the judges aren't afraid to let the kids know when their food just doesn't cut it. This is a cooking competition, after all, and even the smallest mistake can send a contestant packing. "MasterChef Junior," though, is just warmer than its parent, and the judges are more understanding of the kids' mistakes, and are always ready with helpful advice and a warm embrace instead of a biting observation or a lip-curling scowl.
Ramsay's TV empire is vast, but "MasterChef Junior" definitely holds a special place among his cooking competitions, thanks to its warmth and sincerity. The latest season premieres Tuesday, March 5, on Fox.