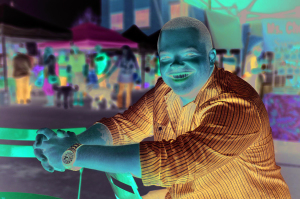 Roger Mooking hosts "Man Fire Food"
Low and slow: any barbecue lover can tell you that those are the key ingredients to perfect, mouthwatering barbecue. Whether it's Carolina-style pulled pork or brisket in the Kansas City tradition, it's that combination of a long cooking time and a low, steady heat that makes barbecue so incredible. The third ingredient, though, might be the most important of all: the fire.
It isn't just barbecue that draws Roger Mooking in Cooking Channel's "Man Fire Food," but any foods being cooked using fire, whether it's over a campfire or in a custom-made smoker. A new season of the meaty favorite premieres Wednesday, Nov. 28, and this season the host is headed all around the country to discover all the creative ways in which people put the most primal of cooking methods to use.
In this week's premiere, smoke signals pull Mooking to the Southwest, where a smokehouse in Chandler, Arizona, serves up Tennessee-style barbecue. The joint's founders show off their piping-hot brick pits and get the host to lend a hand loading them up with more than 300 pounds of pork before sharing some of their fall-off-the-bone ribs tossed in a barbecue sauce with more than a hint of spicy cayenne.
Mooking's in Las Vegas for his second stop, and at The Kitchen at Atomic he checks out a portable cooking rig called "the swing set"; but this multipurpose cooking contraption isn't child's play. He and chef Justin Kingsley Hall use it to hang Mediterranean spice-rubbed legs of lamb over a low heat, bury beautiful butternut squash in a bed of coals, and even hang a swinging basket that is used to grill veggies -- sounds safe!
Next week, on Wednesday, Dec. 5, Mooking's journey continues as he checks out two chefs blending international techniques and flavors with American-style barbecue. In North Carolina, he hangs out with a chef who's infusing Puerto Rican flavors into his pit-smoked hogs, and in Virginia he meets a classically trained French chef who's also a champion pitmaster who builds his own cooking rigs.
Whether it's low-heat coals or big, dancing flames, fire is the oldest and most basic way to cook food -- but there's nothing basic about what these chefs are doing. The new season of "Man Fire Food" premieres Wednesday, Nov. 28, on Cooking Channel.