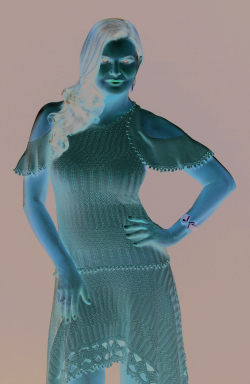 Heather Tom as seen in "The Bold and the Beautiful"
The Bold and the Beautiful
Ridge tells Brooke that no one will discover that he bribed the judge in Will's custody hearing. Bill is happy when Ken is able to hack into Judge McMullen's phone, and he hatches a plan to gather evidence against Ridge and the judge. Donna and Pam talk about Quinn, and Pam reminds Donna of all the crazy stunts Quinn has pulled. Ridge tells Brooke that all they can do is wait for Bill's next move. Eric reminds Quinn that Pam is part of the family. Bill requests the presence of Ridge, Judge McMullen, Brooke, Katie and Thorne in his office. During the meeting, Justin plays a recording that incriminates Ridge and the judge. Pam wants to drive a wedge between Eric and Quinn, so she tries to get Donna hired on at Forrester. Katie expresses regret, and tells Bill that she allowed him more access to Will once she learned the truth. Brooke pleads with Bill not to press charges against Ridge. Katie agrees when Bill requests a change in their custody agreement. Katie tells Wyatt and Liam about Ridge's tampering in the custody case. Ridge expresses his belief that Bill is not genuine, and that he just wants Brooke for himself.
Days of Our Lives
Chad assists Abigail as she goes into labor. Stefan finds Gabi with some incriminating evidence. Claire helps cover up Tripp's crime. Ben admits to Ciara that he has developed feelings for her. Gabi begs Stefan to keep her secret. Paul finds himself tempted to read Will's journal. Ciara has questions for Claire about her lies. Chad makes a big move when he makes a deal with Stefan. Brady tells Paul the truth, and Rex tries his best to reconcile with Sarah. Gabi struggles with whether or not to reveal the truth. Paul confronts Will about what his true feelings are for Sonny, and Rex comes to a difficult decision about his future. Sarah causes a scene at the pub, and Eric tries to help her. Lucas says his goodbyes to Chloe before he leaves town. Kayla has her suspicions about Gabi. Abigail feels that JJ betrayed her. Jennifer and Stefan argue over Abigail and the baby, and Claire's scheme breaks down as Ben gets the truth out of Wyatt.
General Hospital
Sonny thinks about what might have been, and Julian gains the upper hand. Alexis has some insights to share. Carly can't find her husband, and Jason has an update. Jordan and Curtis discuss wedding plans. Elizabeth's patience is put to the test. Franco turns to Scotty for help, and Laura meets Sasha. Anna shares some words of encouragement. Sonny visits Margaux and pleads with her. Curtis is touched by Drew's kind act. Sam and Michael meet at the Metro Court restaurant. Sasha defends herself against accusations made by Kiki.
The Young and the Restless
Phyllis puts all her energy into running Jabot. She recruits Dark Horse as a partner for a launch party for Jaboutiques, and holds a photoshoot featuring the company's female leadership. Billy resists Phyllis's leadership, and accuses her of taking credit for the stores. Tessa happily agrees when Mariah asks her to move in together. They agree that Mariah will move into Tessa's tiny apartment in order to save money, so Mariah says goodbye to her time at Sharon's house and moves her things into Tessa's. Sharon, Phyllis, Nikki and Victoria are stressed about Rey's investigation into JT's murder. Phyllis suggests they stop meeting together to avoid suspicion. Rey believes Victor is responsible for the murder, and he starts bringing Newmans in for questioning. Sharon and Rey are torn between staying professional and the growing chemistry between them. Kyle hires Lola as the caterer for the Jaboutique party when the planned caterer cancels. Nick and Phyllis reveal their status as the new power couple at the party, while Sharon and Billy show up together to prove they've moved on.