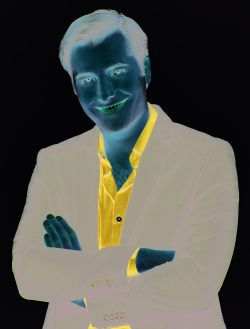 Freddie Smith stars in "Days of Our Lives"
The Bold and the Beautiful
Ridge is shocked to find Steffy wearing Bill Spencer's sword necklace. Bill tells Wyatt he's planning to marry Steffy right away, and Wyatt tries to tell him he will lose Liam forever if he does. Steffy shares with Ridge her power play with Bill. Ridge expresses his unhappiness with how Liam treated Steffy. Bill presents Steffy with a new nursery for Kelly and a special gift just for her. Brooke and Hope don't agree on the outcome of the current situation. Ridge urges Liam to prevent Bill from marrying Steffy before it's too late. Steffy is blindsided by Bill's insistence they get married right away and he tells her she must decide. Steffy makes a shocking announcement about her future. Wyatt and Liam go surfing. Xander goes to Zoe's apartment to tell her to leave Los Angeles. Maya asks Emma if she is threatened by Xander's ex-girlfriend. Steffy calls Liam to Forrester to share her big news.
Days of Our Lives
Jennifer confronts Eve and Victor about having drugs planted in JJ's apartment. Brady wants to tell Eric the truth about Nicole leaving town. Claire knocks Ben out. Eli supports Lani on her first day back at work. Eve drops a bombshell on Jennifer that could affect her relationship with Eric. Hope and Rafe burst in on Ben and Ciara with guns drawn. Marlena learns that a key guest has not RSVP'd to her and John's wedding. Adrienne hires Steve to look for Bonnie. Jennifer struggles with whether or not to tell Eric the true reason Nicole left town. Chad plays right into Stefan's hands. Eve and Brady promise to help Stefan destroy Titan. Gabi spies a secret meeting between Kate and Stefan. Eric proposes to Jennifer. Chad struggles with Abigail having Stefan's baby, but he agrees to work things out. Gabi confesses her scheme to Kate, hoping to gain her as an ally. Steve and Kayla celebrate his release from the hospital. Brady asks Jennifer who planted the drugs. Eric shares big news with Marlena. Sonny and Will find out who is behind the threatening notes about Leo's death. John asks Paul for his help in his wedding to Marlena.
General Hospital
Sonny feels that he is helpless. Jordan assesses a situation. Kim tries to convince Julian to live in the moment. Michael is disappointed, while Lucas becomes confused. Carly experiences doubts. Sonny feels guilty. Jason calls Sam. Josslyn fears the worst. Sam and Curtis go to visit Ferncliff. Chase feels grateful. Josslyn becomes angry. Jordan searches for answers. Brad is preoccupied.
The Young and the Restless
At the Roof Deck, Victor reveals they need new talent for their real estate division and he has someone in mind. Victor and Victoria needle Nick and his team, but they're interrupted by Nikki, who is Victor's candidate. Billy butts heads with Jack at the bar just as Phyllis and Lauren arrive. Lauren confronts Billy about his unfair treatment of Phyllis and his behavior toward Fenmore's. Nikki wonders if Victor is just trying to spite Nick by asking her to come on board at Newman. Billy and Nick get into a physical altercation, which Kyle captures on video. Billy turns down Summer's advances, while Phyllis seeks comfort in Jack. Billy puts a secret project into motion at Jabot without telling anyone. Victor brings people together at Newman by organizing a special luncheon. Nikki feels the absence of Nick, and hasn't given up on reuniting their family. Phyllis warns Nick that Kyle knows their secret and that it might come out.