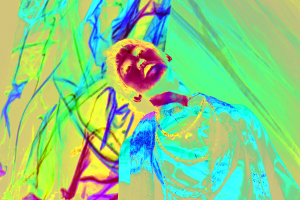 Dan Stevens stars in "Legion"
The battle between good and evil has been raging in prime time for decades, but one particular series blurs the lines between hero and villain. FX's "Legion" has captivated TV viewers, and fans have one more chance to enjoy the show before it's over for good.
Dan Stevens ("Downton Abbey") returns as dangerously troubled mutant David Haller in the season premiere of "Legion," airing Monday, June 24, on FX. Diagnosed with schizophrenia at a young age, Haller had no idea that he was actually a mutant until a fateful encounter with a fellow psychiatric patient revealed the truth. The show is based on the character from the Marvel Comics Universe, an extremely powerful being who's the son of X-Men leader Charles Xavier.
This marks the third and final season of the show, much to the chagrin of fans. During a "Legion" Season 3 panel at this year's WonderCon in San Francisco in March, creator Noah Hawley explained why it made sense to end the show, despite its popularity and acclaim.
"I feel like where we left him at the end of the second season, again at his lowest point, there's only two ways that he can go -- he can either get back to a healthy place, or he can go off the bottom of the map," Hawley said. "Obviously it's bittersweet, but a story has no meaning without its ending."
In the first season of the show, Haller was brought to a mutant facility known as Summerland, where he learned to control his mutant powers. He soon discovered that his mind was infected with a parasitic mutant known as the Shadow King/Amahl Farouk (Navid Negahban, "24"). All the while, his new allies tried to protect him from Division 3, a heavily funded anti-mutant government agency. However, in Season 2, the Summerland staff had teamed up with Division 3 to take on the Shadow King.
The visually stunning series intentionally mixes 1960s style with modern elements, presumably to reflect Haller's twisted perception of reality. There's a time-traveling aspect to the new season, which will only add to the already psychedelic visuals. What's more, previews for Season 3 feature references to "Alice in Wonderland," promising a whole new level of trippy storytelling.
Season 3 trailers also have viewers in a tizzy because of their introduction of an iconic X-Men character. "Game of Thrones" alum Harry Lloyd, best known for his role as Viserys Targaryen in the HBO hit, has been cast as Prof. Xavier, whom viewers see in flashbacks in "Legion's" early Season 3 teasers. Haller's mother will be portrayed by Danish actress Stephanie Corneliussen ("Mr. Robot"). Also new to Season 3 is Lauren Tsai ("Terrace House: Aloha State"), who joins the cast as Switch, a mutant whose time-traveling abilities are key to Haller's ultimate plan to undo the damage he's done.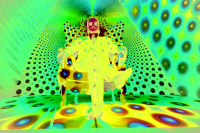 Navid Negahban as seen in "Legion"
Fans of "Legion" will be happy to see several familiar faces from the first two seasons of the show. Favorite Aubrey Plaza ("Parks and Recreation") returns as Lenny Busker, Haller's best friend. Though she died in Season 1, Farouk later gave her a new body. Rachel Keller portrays Haller's girlfriend, Syd Barrett, a mutant with the unique ability to switch bodies with others by touching them. Keller was cast in "Legion" after her breakout role in Hawley's "Fargo," which also starred fellow "Legion" cast member Jean Smart ("Designing Women"). Smart played Melanie Bird, a demanding psychiatric therapist at Summerland, for the first two seasons of the show.
The supporting cast also includes Bill Irwin ("Law & Order: Special Victims Unit") as Cary Loudermilk, a mutant scientist and one of the founders of Summerland. He and fellow mutant Kerry Loudermilk (Amber Midthunder, "Roswell, New Mexico") co-exist within the same body most of the time. While they can take separate physical forms when they need to, Kerry only ages when outside of Cary's body, leaving her much younger than her counterpart.
Mutant Ptonomy Wallace (Jeremie Harris, "Blue Bloods") serves as Bird's memory specialist, thanks to his ability to remember everything and transport people back into their own memories. Hamish Linklater ("The New Adventures of Old Christine") rounds out the cast as Division 3 interrogator Clark Debussy.
Behind the scenes, the cast is in good hands with Hawley at the helm. In addition to creating "Legion" and "Fargo," he's worked as a writer and producer on the hit Fox drama "Bones" and has written five novels. He's won a number of accolades and awards, including an Emmy, two Golden Globes, a Critics' Choice Television Award and a Writers Guild of America Award.
His unique take on the comic book genre in "Legion" has been a hit with viewers as well, earning the show high marks on the aggregator review sites Rotten Tomatoes and Metacritic, which are based on user reviews.
Thanks to Hawley's vision, solid performances and stunning visuals, FX's latest hit appeals to a vast cross-section of TV viewers, not just fans of superheroes and comic books. Enjoy a new season of unexpected twists and turns as David Haller teams up with another mutant in the new season of "Legion," premiering Monday, June 24, on FX.