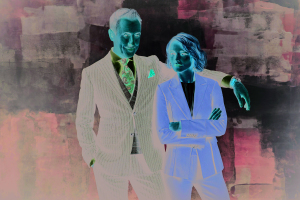 Alan Cumming and Bojana Novakovic star in "Instinct"
Instinctual investigations: If there's one thing CBS is known for, it's the network's huge number of police procedurals. It's the home of "Hawaii Five-0," the NCIS franchise, the soon-to-end "Criminal Minds" and the venerable CSI franchise. Last spring, another crime-solving series was added to the list, and although it earned only a wishy-washy reception from critics, "Instinct" performed admirably in the ratings, and it returns for a second season Sunday, June 16.
"Instinct" stars the incomparable Alan Cumming ("The Good Wife") as Dr. Dylan Reinhart, an ex-CIA operative who has hung up his espionage hat and taken a job as a psychology professor at a local university. He's lured back to his former life when a serial killer, who appeared to be using Reinhart's book for inspiration, leads him to team up with NYPD Det. Lizzie Needham (Bojana Novakovic, "Shameless").
Of course, Needham has her own tragic backstory, but who doesn't in these sorts of shows? Her partner, who also happened to be her fiance, was killed in the line of duty, and since then she's been unable to see eye to eye with another partner.
"Instinct's" first season may not have wowed the critics, but two things did impress them: Cumming's performance and the show's depiction of gay characters. The Scottish-American actor is no stranger to accolades -- he earned a Tony Award for his stage performance in "Cabaret" and was nominated for three Emmys for his role of campaign manager Eli Gold in "The Good Wife."
In the first season's finale, Dr. Reinhart and his husband Andy (Daniel Ings, "The Crown") adopt a child, while Det. Needham receives a less happy ending, learning details about her fiance's death while also discovering that her chances of getting a coveted promotion weren't as good as she'd hoped. That's where things stand when the second season of "Instinct" premieres Sunday, June 16, on CBS.
Hunting for success: Holly Hunter is joining the battle for succession. The acclaimed actress has joined the cast of HBO's comedy-drama "Succession" for its second season, which is anticipated to premiere later this summer, adding her distinct level of gravitas to the series.
"Succession" tells the story of the rich and successful Roy family, whose aging patriarch, Logan (Brian Cox, "The Bourne Identity," 2002), is beginning to step back from the day-to-day operations of his massive media conglomerate, leaving a power vacuum that his children and grandchildren rush to fill. It's equal parts drama and comedy as they lie, backstab and attempt to outmaneuver one another in an attempt to come out on top and replace Logan.
Hunter joins the cast as Rhea Jarrell, the head of a rival company that's ready to exploit the power struggle happening in the Roy family's conglomerate. The actress is a four-time Oscar nominee and won one for Best Actress, as well as a BAFTA, Golden Globe and Cannes Film Festival Award for her role in 1993's "The Piano." On the TV side of things, she's won two Primetime Emmys.
That's a lot of experience, and she's bringing it all to a show that's already steeped in talent. There's still lots of time to binge watch the first season before "Succession" returns this August on HBO.
Ellen eternal: She's hosted one of daytime television's top shows since 2003, and Ellen DeGeneres ("Finding Nemo," 2003) isn't going away any time soon. "The Ellen DeGeneres Show" has been renewed for three more seasons, pushing it all the way to 2022.
The host made the announcement to her studio audience in a recent episode of the talk show. "From the beginning, I said that this show was going to be like a relationship. We have been through the good, the bad, the '50 Shades of Grey,' phase. It's been a lot of fun, and 16 years is a pretty good run," she said, teasing her audience and making it sound like she was ready to step back from the show. "Sometimes, in a relationship, you need to take a break -- but I don't. You're stuck with me because I just signed for three more years."
That little bait-and-switch is classic DeGeneres. The entire show is almost always fun, lighthearted and bright, and the love that she feels for the members of her audience always shines through. Besides the usual talk show fare of interviewing celebrities and discussing the news, the show also features DeGeneres dancing to popular music and inviting audience members up on stage to participate in zany and irreverent games, an idea that's even been spun off into its own series, "Ellen's Game of Games."
The renewal will bring "The Ellen DeGeneres Show" up to nearly 20 years on TV. It's an incredible accomplishment, and one thing's for sure -- Ellen DeGeneres isn't going anywhere any time soon.