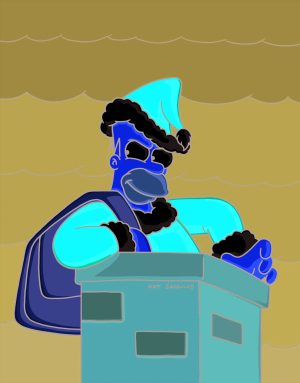 Homer from "The Simpsons"
Cuddle up for a festive, fun-filled night on Fox, when the four funniest animated families on television celebrate the holidays with new Christmas specials, airing Sunday, Dec. 15. The festive episode of "The Simpsons" (titled "Bobby, It's Cold Outside") is the show's 20th Christmas special, while "Bless the Harts" is celebrating its first (titled "Miracle on Culpepper Slims Boulevard"). Add to that a "Bob's Burgers" special ("Have Yourself a Maily Linda Christmas") and one from "Family Guy" ("Christmas is Coming"), and you've got a full night of animated fun.
"The Simpsons" is known for its celebrity guest voices (many celebs lend their own voices to a storyline that's making fun of them). A special episode is the perfect time to show off how many celebs still love this show, and "Bobby, It's Cold Outside" goes all out. "NCIS: New Orleans" star Scott Bakula and former Microsoft CEO-turned-LA Clippers owner Steve Ballmer both lend their voices to the episode, which also features the return of the most notorious Simpsons villain: "Frasier" star Kelsey Grammer as Sideshow Bob.
It seems some evil-doer is traipsing around Springfield stealing Christmas packages off of people's doorsteps (a timely subject), and this no-goodnik must be tracked down if there is to be any hope of saving Christmas. In completely unrelated news, this year's Springfield Mall Santa is none other than famed actor, professor, scientist, former mayor and convicted murderer Robert Underdunk Terwilliger Jr. PhD -- more commonly known as Sideshow Bob. The episode title riffs on the song "Baby, It's Cold Outside," which was written by a man named Frank Loesser in 1944 to sing with his wife at parties. Despite never mentioning anything holiday-related, the 75-year-old tune has been intrinsically linked to Christmas.
"Bless the Harts" is the baby of Fox's Animation Domination time block. The show's first Christmas special is only its ninth episode overall, and having to follow a series with 672 episodes (and a movie) under its belt might seem difficult if it weren't for how much heart "Bless the Harts" has shown throughout its freshman season, particularly in the way it has chosen to avoid tropes associated with low-income families, a category that the Harts fall into.
Rather than having a deadbeat, alcoholic (or worse) boyfriend, Jenny (voiced by Kristen Wiig of "Saturday Night Live" fame) has Wayne (Ike Barinholtz, "The Mindy Project"), who certainly won't be winning any awards for book smarts, but who wants nothing more than to care for her and her family. In "Miracle on Culpepper Slims Boulevard," the show's creator, Emily Spivey, voices Louise, Jenny's boss at the restaurant. Louise invites the Hart family to her annual Christmas party, but after seeing the extravagance of Louise's home, Jenny begins to feel insecure about the kind of holiday she is able to provide for her own family, and her mother, Betty (Maya Rudolph, "The Good Place"), tries to focus on how she can stick to a budget but also "win" at Christmas gift-giving.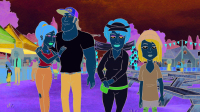 Jenny, Wayne, Betty and Violet from "Bless the Harts"
It's hard to believe "Bob's Burgers" is already in its 10th season (with a movie set to premiere next year), especially since the writers have been able to keep each episode as fresh and funny as the first. In "Have Yourself A Maily Linda Christmas," the Belcher matriarch, Linda (hilariously voiced by comedian John Roberts, who based his performance on his own mother), wants some extra spending money for the holidays, so she gets a temp job at a post office. However, Linda discovers an undelivered package and ends up going a little off-book to ensure it reaches its intended destination.
While mom is out saving the day, Bob (H. Jon Benjamin, "Archer") and Tina (Dan Mintz, "Adventure Time") end up stuck at home with her difficult parents. The younger kids, Gene (Eugene Mirman, who also voices a main character in "Archer") and Louise (Kristen Schaal, "The Last Man on Earth"), are scrambling at the last minute to find the perfect gift for their eccentric older sister. Megan Mullally ("Will and Grace") returns as Linda's neurotic sister Gayle, and Tim Meadows ("Schooled") is back as reluctant mailman Mike Wobbles.
Fox has been most secretive about the plot of the new "Family Guy" holiday special, "Christmas is Coming." All we know so far is that Meg (Mila Kunis, "The Spy Who Dumped Me," 2018) is going to take Stewie (series writer and creator Seth MacFarlane, who also voices Peter and Brian) to the mall to meet Santa, which ends up traumatizing poor Stewie so badly that Brian needs to help him process the experience. If you were breathing at any point during the past 10 years, you should recognize the "Game of Thrones" reference in this episode title, a spin on the Stark family slogan "Winter is Coming."
"The Simpsons" signals the beginning of family festivities on Sunday, Dec. 15, on Fox. The slew of animated Christmas specials from "Bless the Harts," "Bob's Burgers" and "Family Guy" are sure to have you and yours heading to bed with a belly full of cheer and a boost in holiday spirit.